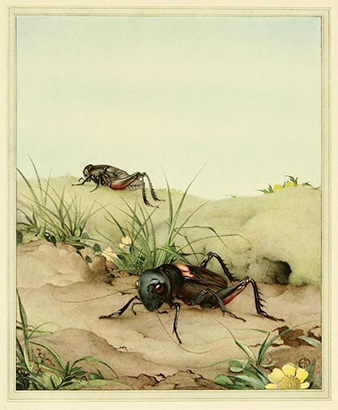 Canción infantil
Children's Song
Iba el grillito por la sabana,
Cantando alegre con frenesí,
Y la grillita enamorada,
Le contestaba chirriquichí,
Oye grillito si tú me amas,
Allá en el campo donde nací,
Dame la mano dame la otra,
y juntos haremos chirriquichí,
Pero el grillito muy tempranito,
Sobre una roca se arrecostó,
Y cuando iba a rascarse un ojo
Vino una vaca y ¡sua! lo aplastó.
A boy cricket went on the savanna
Singing happily, with passion,
And the little girl cricket, in love,
Answered him "Chirriquichi."
Listen, little cricket, if you love me,
Over there, in the field where I was born,
Give me one hand, give me the other,
And together we'll make, "Chirriquichi."
But the little boy cricket, very early,
On a rock he lay down
And when he was about to scratch his eye,
There came a cow and splat! She crushed him.

We think this song is sung to the tune in the version below...
Please
let us know
if you think this video has been taken down by YouTube.
Thanks!
Thanks and Acknowledgements
Translation by Monique.