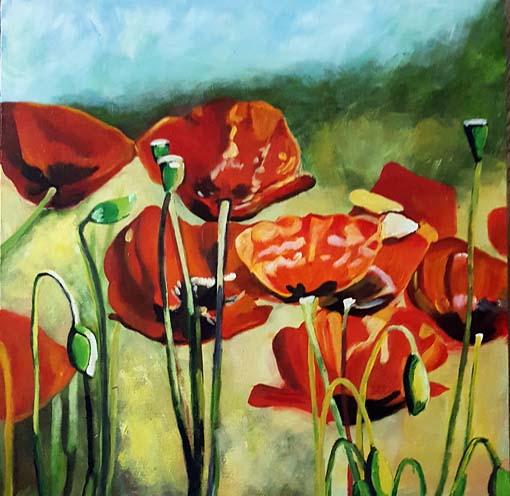 لالا لالا، گل لاله
Lala Lala, Tulip Flower
لالا لالا، گل لاله
پلنگ در کوه چه می ناله
لالا لالا، گل قالی
بابات رفته، جایش خالی
لالا لالا، گل خشخاش
بابات رفته، خدا همراش
لالا لالا، گل زیره
بچم آروم نمی گیره
لالا لالا، گل ابی
چرا امشب نمی خوابی؟
لالا لالا، گل صدپر
لالا لالاف گل بادوم
بخواب آروم بخواب آروم
لالا لالا، گل آوشن
بابات اومد، چشمت روشن

Lala lala*, tulip flower
Leopard is roaring on the mountain
Lala lala, Persian carpet flower**
Your father is gone, he is missed
Lala lala, poppy flower
Your father is gone, god bless him
Lala lala, cumin flower
My child does not calm down
Lala lala, blue flower
Why don't you sleep tonight?
Lala lala, a thousand petals flower
Sleep my sweetheart!
Lala lala, almond flower
Sleep well, sleep well
Lala lala, thyme flower
Daddy came, congratulations!

Notes
*Lala means "sleep"
** A Persian Carpet Flower has the binomial name Edithcolea grandis. You can see the flower in the photo below. Fatima wrote from Iran, "This flower is really like the Persian rug's flowers. I had a look on our rugs and I found that basically they used a pattern like this flower's form in the rug's design."

*****
Transliteration

Lala lala, gole lale
Palang dar kouh che minale
Lala lala, gole qaalee
Babat rafte, jayash khalee
Lala lala, gole khashkhash
Babat rafte, khoda hamrash
Lala lala, gole zireh
Bacham aroom nemigire
Lala lala, gole abi
Chera emshab nemikhabi
Lala lala, gole sad par
Bekhab ay nazaneen delbar
Lala lala gole badoum
Bekhab aroom, bekhab aroom
Lala lala, gole aveshan
Babat amad, cheshmet roushan

The text in parentheses in the version of the lyrics below gives the formal Persian for the phrase that's in the lyrics just next to it to the right.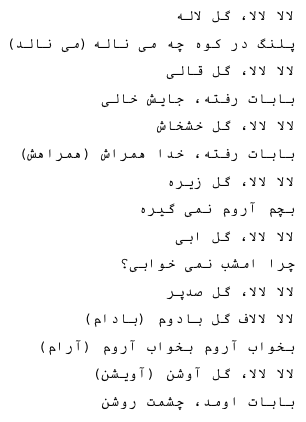 Photo of a Persian Carpet Flower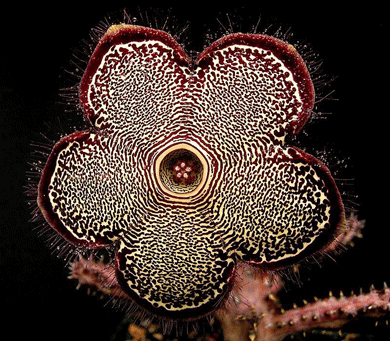 Thanks and Acknowledgements
Many thanks to Fatima Baji for contributing, transliterating and translating this song and for sharing her painting of poppies!

Photo of Persian Carpet Flower by Frank Vincentz, cc.
Moteshakkeram!