Mo Li Hua ("Jasmine Flower") is a popular Chinese folk song that dates back to the 18th century. It's one of the most well-known Chinese songs both in China and abroad. It's a nice song for beginners to learn due to its simple lyrics.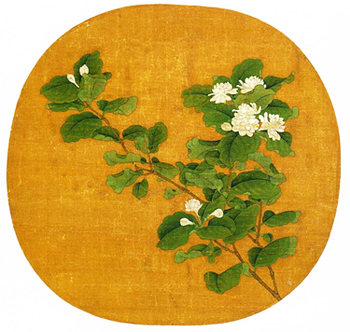 Traditional Song
Traditional Song
好一朵美麗的茉莉花
好一朵美麗的茉莉花
芬芳美麗滿枝椏
又香又白人人誇
讓我來將你摘下
送給別人家
茉莉花呀茉莉花
What a beautiful jasmine flower
What a beautiful jasmine flower
Sweet-smelling, beautiful stems full of buds
Fragrant and white, everyone praises it
Let me pluck you and
Give you to others
Jasmine flower, oh, jasmine flower.
Notes
Pronunciation (Pinyin)

Hǎo yī duǒ měilì de mòlìhuā
hǎo yī duǒ měilì de mòlìhuā
fēnfāng měilì mǎn zhīyá
yòu xiāng yòu báirén rén kuā
ràng wǒ lái jiāng nǐ zhāi xià
sòng gěi bié rénjiā
mòlìhuā ya mòlìhuā.

*****

Here's an English version that's singable to the tune:

Hao yi duo meili de mo li hua
Hao yi duo meili de mo li hua
Fragrant flowers filled the air,
Beautiful blossoms everywhere
Choose a blossom white and pure
Give to the one that you adore
Mo li hua ya mo li hua

*****

The melody of this song has become well-known among Western listeners for several reasons. One is that it was sung by Giacomo Puccini in his opera called Turandot in 1926. It was also used in the 2010 Olympics opening ceremony in China. It's been played at several Olympic Games.

Comments
There are several regional versions of this song. The most well-known version comes from Jiangsu Province. Another popular version comes from Zhejiang Province. They have different lyrics and melodies.

You can learn a longer version of Molihua here.


Sheet Music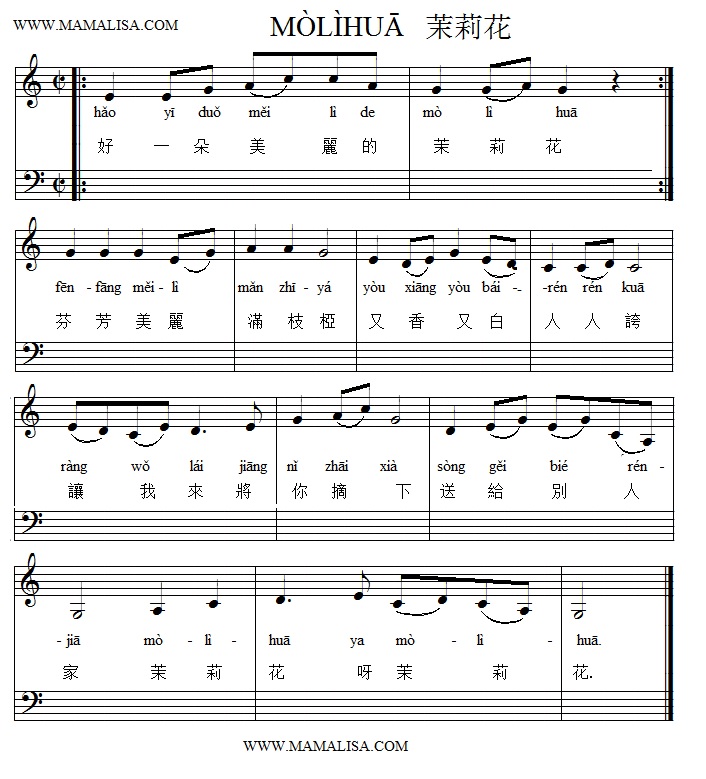 Thanks and Acknowledgements
Image:The White Jasmine Branch, painting of ink and color on silk by Chinese artist Zhao Chang, early 12th century.