Nowruz is the Persian New Year, which takes place at the beginning of Spring.

Haji Firuz is a fictional character in Persian folklore who plays the tambourine and sings and dances in the streets at the beginning of Nowruz. His face is covered in soot and he wears bright red clothes and a hat. Some people give him money for singing and dancing. Haji Firuz is the companion of Amu Nowruz (Uncle Nowruz).

This is one of the songs Haji Firuz sings...
حاجی فیروز

It's Haji Firuz
New Year's Song
New Year's Song
حاجی فیروز، سالی یه روز
همه می دونن، منم می دونم
عید نوروز، سالی یه روز

It's Haji Firuz, only one day a year,
Everyone knows it, I know it too,
It's Nowruz, only one day a year.
Notes
Pronunciation:

Hāji firouz e, sāl-i ye ruz e
Hame midunan, man am midunam
Eyd e Nowruz e, sāl-i ye ruz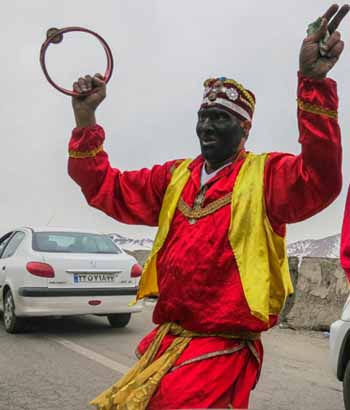 Comments
Fatima wrote, "This song is really popular in Iran and is part of Iranian folklore."
Thanks and Acknowledgements
Many thanks to Fatima Baji for sharing this song with us!

Image: Haji Firuz on the road, c.c.

Caption to Photo: "Nowruz in Tehran, Haji Firuz, celebrating the Iranian New Year on the road in Tehran Province, March 2013. The Iranian New Year (Nowruz) is always in March. It is a big celebration with many kind of events. Haji Firuz is one of them. Nowruz corresponds to our Christmas."
Khay'ly Mo'teh'shaker'am!