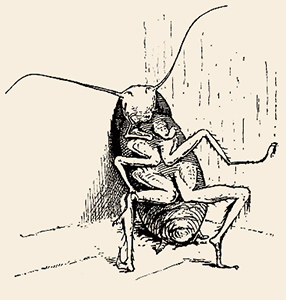 La cucaracha
The Cockroach
Canción infantil
Children's Song
La cucaracha, la cucaracha
Ya no puede caminar
Porque le falta, porque no tiene
La botita principal.

La cucaracha contenta
Viene andando sin parar
Aunque le falta una bota
Nunca deja de bailar.
The cockroach, the cockroach
Can no longer walk
Because it's missing, because it doesn't have,
The little, front boot.

The happy cockroach
Comes walking without stopping.
Even if it's missing a boot,
It never stops dancing.

Comments
There's a version of La cucaracha in Japan. Sadao wrote to us about it, "The Japanese version is quite different for both the title (車にゆられて = Be shaken on a cart) and the lyrics. And these are not in the public domain."

Thanks and Acknowledgements
Thanks to Sadao Mazuka for sending this song with the midi! Translated by Monique and Lisa.