In Portugal, kids go door-to-door on all Saints Day, November 1. (Poor beggars used to too.) They sing songs and are given treats in return. They're given broas (small bread-like cakes), chocolate, nuts and sometimes money. The holiday is called Pão-por-Deus (Bread of God) or "Dia dos Bolinhos" (Day of Cookies) .
Bolinhos e bolinhós
Muffins and Cookies
Pão-por-Deus Song
Pão-por-Deus Song
Bolinhos e bolinhós
Para mim e para vós,
Para dar aos finados
Que estão mortos e enterrados
À porta da vera* cruz,
truz, truz
A senhora está lá dentro
Assentada num banquinho
Faz favor de vir cá fora
P'ra nos dar um tostãozinho,
...Ou um bolinho!*

Muffins and cookies
For me and for you,
To give the deceased
Who are dead and buried
At the door of the true* cross,
Knock, knock
The lady is in there
Seated on a stool
Please come out here
Please give us a coin,
...Or a cookie!*
Notes
*This is sometimes "bela cruz" (beautiful cross) instead of "vera cruz" (true cross). It can also be found as "daquela cruz" (of this cross).

*****

When the host gives something to the children, they sometimes chant:

Esta casa cheira a broa
Aqui mora gente boa.
Esta casa cheira a vinho
Aqui mora algum santinho.

English Translation:

This house smells of bread
Here live good people.
This house smells of wine
Here lives a saint.


Sheet Music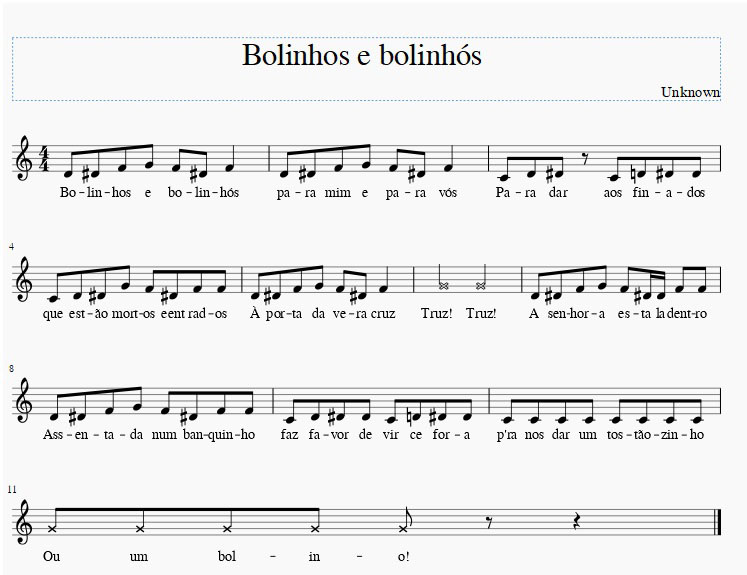 Thanks and Acknowledgements
Thanks to Sarah Medeiros for sharing the score! Translated by Lisa.