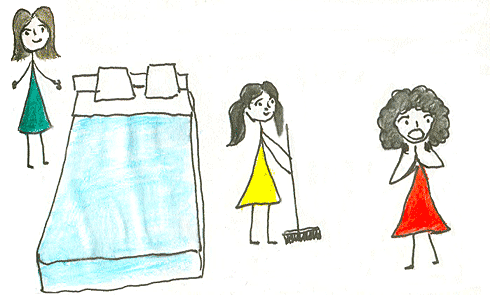 إبنیة علی إبنیة
A Girl and A Girl
Children's Song
Children's Song
إبنیة علی إبنیة
و لاگعدیت بطاله
وحده تفرش فراشی
وحده تکنس الدار
وحده تصیح یا یمّا
تری بالبیت خطّار

A girl and a girl
And if I'm idle
One of them* makes my bed
Another one sweeps the house
And one of them calls me
Hey mom! We have a guest!

Notes
*One of her daughters

*****

Transliteration

Bnayah ala bnayah
We la gha'deit batallah
Wahda tefresh farashi
Wahda taknis al-dar
Wahda tasih ya yomma
Tara be al-bait khottar


Thanks and Acknowledgements
This song was compiled by Siham Sajirati who collected folkloric children songs of Arabs of Iran and published them in a book in 1999 called "Sajirati, Siham" (Helle Ya Rommane. Ahwaz: Khaledin publication house).

Many thanks to Fatima Baji for contributing, transliterating and translating this song.

Thanks to Monique Palomares for the illustration.