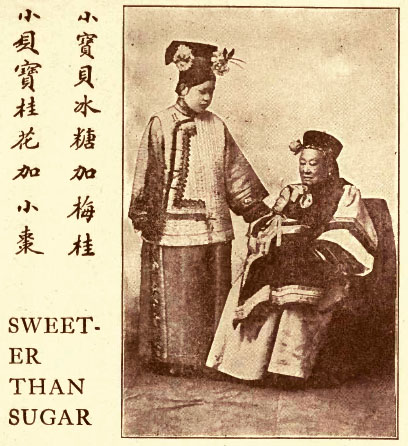 小宝贝冰糖加梅桂
Sweeter Than Sugar
Nursery Rhyme
Nursery Rhyme
My little baby, little boy blue
Is as sweet as sugar and cinnamon too
Isn't this precious darling of ours
Sweeter than dates and cinnamon flowers.
Notes
The English title and text comes directly from Headland's book of Chinese Mother Goose rhymes. The translation is loose (it was done to sound like an English Mother Goose rhyme and was made to rhyme). If anyone would like to send a literal translation, please email me. Thanks! Mama Lisa
Comments
I asked Yuan Ping about this rhyme and he wrote back, "What you send is the old Beijing ballad, should also have several hundred!"
Thanks and Acknowledgements
This rhyme and the English translation above are from the book, Chinese Mother Goose Rhymes, by Isaac Taylor Headland of Peking University (copyright 1900).

Many thanks to Yuan Ping for typing this rhyme in Chinese text for us!
M goi! & Xie xie!