لالا لالا گل پسته
Sleep, Sleep Pistachio Flower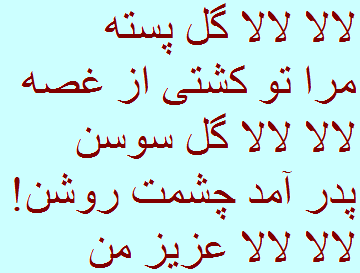 Sleep, sleep pistachio flower
Your sorrow killed me,
Sleep, sleep lily flower
A good present:
Your father came back!
Sleep, sleep my darling.
Notes
Transliteration

Lala lala gole peste
Mara to koshti az qosse
Lala lala gole soosan
Pedar amad cheshmet roushan
Lala lala azize man.
Computerized Text
(We apologize if this doesn't display properly on your screen):
لالا لالا گل پسته
لالا لالا گل پسته
مرا تو کشتی از غصه
لالا لالا گل سوسن
پدر آمد چشمت روشن!
لالا لالا عزیز من
Thanks and Acknowledgements
Many thanks to Fatimah Baji for contributing, transliterating and translating this song.
Khay'ly Mo'teh'shaker'am!

<