گلی از دست برفت
A Flower Was Lost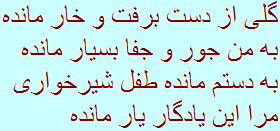 A flower was lost and the thorn remained
A lot of oppression remained for me
A baby remained for me
This is my mate's memorial.
Notes
Transliteration

Goli az dast beraft

Goli az dast beraft o khar mande
Be man jour o jafa besyar mande
Be dastam mande tefle shirkhari
Mara in yadegare yar mande.
Computerized Text
(We apologize if this doesn't display properly on your screen):
گلی از دست برفت
گلی از دست برفت و خار مانده
به من جور و جفا بسیار مانده
به دستم مانده طفل شیرخواری
مرا این یادگار یار مانده
Thanks and Acknowledgements
Many thanks to Fatimah Baji for contributing, transliterating and translating this song.
Khay'ly Mo'teh'shaker'am!