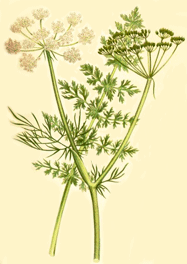 Sleep, Sleep Cumin Flower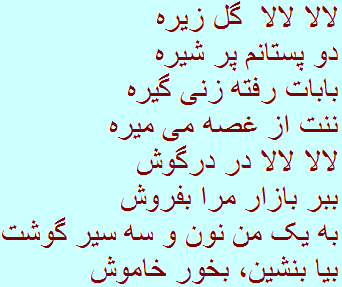 Sleep, sleep cumin flower
My breast is full of milk
Your father went to take a wife
Your mother is grieved
Sleep, sleep, out of the house
Take me to the market and sell me
For the price of 3 kilos of bread and 75 grams of meat
Come here, sit and eat silently.
Notes
Transliteration

Lala lala gole zire

Lala lala gole zire
Dou pestanam pore shire
Babat rafte zani gire
Nanat az qosse mimire
Lala lala dare dargoosh
Bebar bazaar mano befroosh
Be yek man noon o se sir gosht
Bia benshin, bokhor khamoosh.

"kh" like Spanish "j" or German "ch" in Bach.
Thanks and Acknowledgements
Many thanks to Fatimah Baji for contributing, transliterating and translating this song.

The picture of the Cumin Flower is from Project Runeberg
Khay'ly Mo'teh'shaker'am!