Children's Song
Children's Song
Вийди, вийди, сонечко,
Ha дідове полечко.
На бабине зіллячко,
Ha ваше подвір'ячко,
Ha всеняні квіточки,
Ha вeceлi дiтoчки
Tам вони граються,
Tебе дожидаються.
Show up, show up, sun,
At grandpa's field,
At granny's seeds,
At our yard,
At the spring flowers,
At the merry children.
There they are playing,
And waiting for you.
This picture was created by the painter Lyubov Androshchuk. The illustration is in a book published by the GRONO Publishing House in 1997 (ISBN 966-7289-22-2).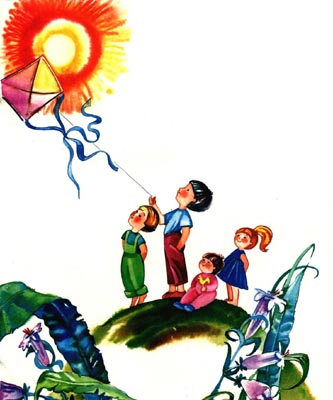 Thanks and Acknowledgements
Many thanks to Andrew Kuzmenok for contributing and translating this song.
Duzhe dyakuyu!

Дуже Дякую!