Happy Vyshyvanka Day
May 20th, 2022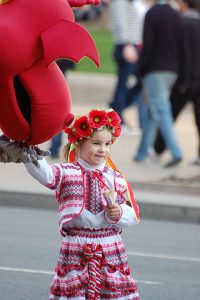 Vyshyvanka Day is a holiday that celebrates traditional Ukrainian embroidered clothing called vyshyvanka. The holiday is held the 3rd Thursday of May every year. Ukrainians wear vyshyvanka shirts to honor their heritage. A weekday was specifically chosen to show that vyshyvanka clothes are "a component of the life and culture of Ukrainians, and not an ancient artifact" (per Ukrinform).
The holiday was started in 2006 by a student of Chernivtsi University. It quickly spread to the whole country and in Ukrainian populations abroad.
Image: By Vladimir Yaitskiy – Flickr: Girl wearing traditional Ukrainian dress, CC BY-SA 2.0.
Leave a Reply