Tanabata Star Festival in Japan
July 11th, 2022
Ayako Egawa sent me this photo from Japan with the note, "June 7th is our Tanabata Day. At the entrance of our apartment, a Tanabata decoration is displayed and people enjoy it. The residents write a wish on a piece of colorful paper and hang it on the bamboo of Tanabata decoration. It's our tradition. I'm attaching a picture of it."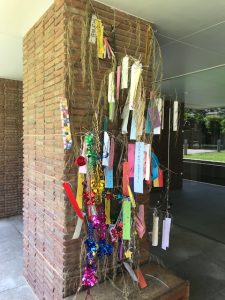 Learn more about Tanabata and a Tanabata song.
Many thanks to Ayako Egawa for sharing this with us!
-Mama Lisa
This article was posted on Monday, July 11th, 2022 at 8:54 pm and is filed under Mama Lisa. You can follow any responses to this entry through the RSS 2.0 feed. You can leave a response, or trackback from your own site.
Leave a Reply