Blini are eaten in Russia before Lent
February 24th, 2018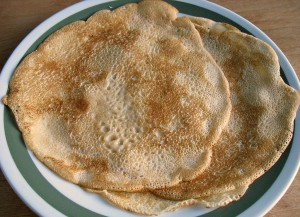 Pancakes are eaten in England before Lent… crepes are eaten in France. In Russia and other Slavic countries, they eat blinis (блины) which are more like crepes than pancakes. They're made with flour, milk and eggs and cooked in butter. They're often topped with sour cream, folded up and eaten. They can be served with preserves, honey, caviar, or even stuffed with meat. There are oh so many ways to serve blini!
Blini are a symbol of the sun. That's why they're eaten as part of the end of Winter, pre-Lenten celebration called Masletnitsa (Мaсленица). They're also a way to rid the house of the food that's not eaten during Lent, just like Pancake Day and Mardi Gras.
People also go sleighing to celebrate. It's a great big goodbye to Winter!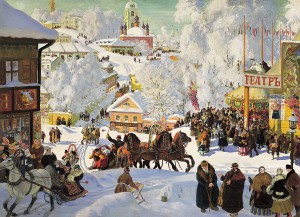 This article was posted on Saturday, February 24th, 2018 at 3:47 pm and is filed under Blini, Countries & Cultures, Holiday Recipes, Holidays Around the World, Lent, Mama Lisa, Masletnitsa, Pancake Day, Recipes of the World, Russia, Russian Cuisine, Ukraine. You can follow any responses to this entry through the RSS 2.0 feed. You can skip to the end and leave a response. Pinging is currently not allowed.
Leave a Reply