Nyango from Cameroon wrote, "A beautiful rhythm and dance... it's quite popular! I grew up singing it and now watch kids singing it.

The kids sing it around one child who wears a mask. That kid is called the 'juju', and he is the one who dances. It's sung mostly when kids are playing and often around the holidays like Christmas. The kids escort the juju who does the dancing and adults give them cash and treats. But you can sometimes hear kids just singing the song and clapping in rhythm on some moonlit nights."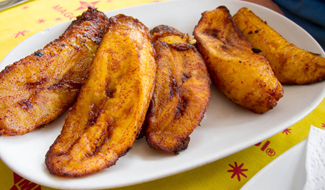 Do do ki do
Fried Ripe Plantains
Masquerade Song
Masquerade Song
(Unidentified Language)
(English)
Do do ki do, ti na baba
Do do ki do
Do do do ti la so la so
Do do ki do, ti na ba ba
Fried ripe plantains, ti na baba
Fried ripe plantains
Do do do ti la so la so
Fried ripe plantains, ti na ba ba.
Notes
Nyango wrote, "I think the song has meaning but the lyrics have been so corrupted that it is difficult to recognize the language and the meaning. Now that it's gaining popularity, maybe someone will recognize the language and tell us what it is. The one word that is recognizable is 'dodo' or 'dodokido' which is what we call 'fried ripe plantains'. Maybe an appreciation of food song.

The kids basically just wear some non-mask structure to cover the face of the 'juju' as the one with the mask is called. The kids usually used a calabash/gourd, cut it into 2, bored eye holes in it and put a strap from side to side. They then strapped this to the face of the 'juju' and he did the dancing. I'm so lucky that a young Cameroonian, Henry, described the kids' mask to me. And he agrees that when the 'juju' is dancing, the rest of the kids just stand in a kind of semi-circle and sing the 'Dodokido' song and clap in rhythm to his dancing. Then they link up the song to other songs like 'O cocorico:

O cocorico, juju doh cam; salute juju; massa charge ya pocket... etc.'"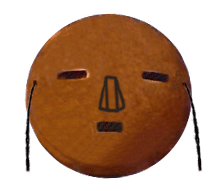 Thanks to Nyango M. Nambangi for singing this song for Mama Lisa's World!
Sheet Music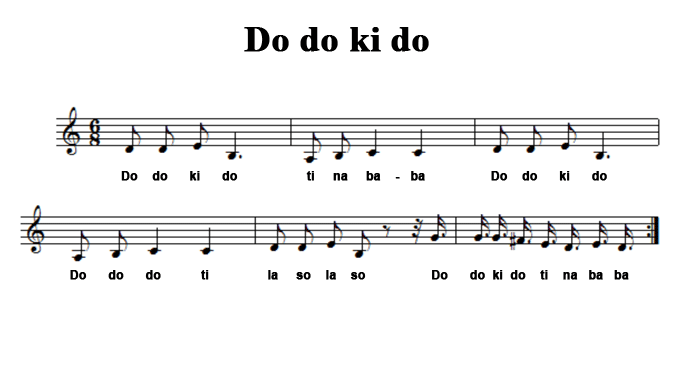 Thanks and Acknowledgements
Many thanks to Nyango Melissa Nambangi of the Minnesota African Women's Association for contributing this song and for commenting on it.

Image of the Fried Plantains: Ghanaian style Fried plantains, at Tante Marie, Accra Mall in Ghana by Charles Haynes, cc-by-sa-3.0.

Image of the type of Gourd Juju Mask that kids use for the Masquerade in Cameroon was created by Lisa.
Thanks so much!