How to Call a Time-out in Games around the World
January 14th, 2016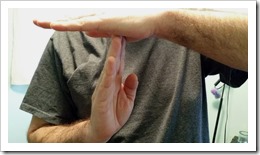 When kids in the US are playing a game and they want to temporarily pause it, they'll yell, "Time-out!" Sometimes, they'll also make a "T" with their hands or arms (see pic).
The term "time-out" comes from sports. They use it to pause games too.
More recently, I've heard kids say, "Pause!" It's possible this comes from pausing video games.
In France, they say "pouce" (thumb) to call a time-out. They might also gesture with a thumbs up.
Frances Turnbull wrote, "Here in England, I've seen my daughter's buddies calling 'T-out'."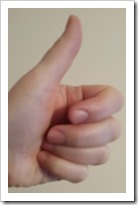 Nyango from Cameroon said, "As kids we used to say: 'Wait! Wait!' with the hand held up, palm facing outward ('Wait' is actually the Pidgin English version of 'Hold on!' and that's how we used it). When my kids were younger, they said: 'Take a break!'"
Agnieszka Magnucka wrote, "'Pause' or 'T' in Poland."
Jessica Taylor-Kucia wrote, "Or 'stop the game' (Stop zabawa) in Poland."
Emanuela Marsura wrote, "In Italy we say 'Stop' or 'Pausa'. In my Venetian dialect I say 'Bando'. You can't translate this."
How do you call a time-out where you're from?
This article was posted on Thursday, January 14th, 2016 at 9:13 pm and is filed under Calling a Time-out in Games, Cameroon, Countries & Cultures, England, France, Games Around the World, Poland, Questions, Readers Questions, USA. You can follow any responses to this entry through the RSS 2.0 feed. You can skip to the end and leave a response. Pinging is currently not allowed.
5 Responses to "How to Call a Time-out in Games around the World"
Leave a Reply