RIP David Bowie
January 13th, 2016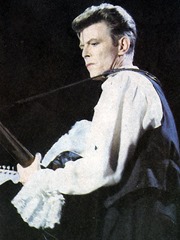 We were very sad to hear that David Bowie passed away this week.
Astronaut Chris Hadfield paid a wonderful tribute to Bowie by recording and filming a rendition his song, "Space Oddity" while aboard the Space Station in 2013.
You can watch the video below…

Bowie approved of the video when it came out. He wrote that it was "possibly the most poignant version of the song ever created."
RIP David Bowie
Leave a Reply