Never Give a French Person Chrysanthemums
January 15th, 2016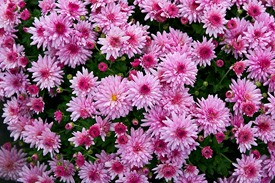 When you say Chrysanthemum in France, people think of graves.
A friend recently mentioned that she went to a party at a French person's house and brought chrysanthemums. When she handed them to the hostess, everyone's jaw dropped. It turns out that chrysanthemums are only used to put on graves in France…
Chrysanthemums are put on the graves of loved ones in November for Toussaint (All Saints Day on November 1st). The tradition dates back nearly 100 years to the first official Armistice Day on November 11th, 1919. It marked the one year anniversary of the end of WWI. At the time, Raymond Poincaré, the president of France, ordered that flowers be put on all the War Memorials. Since chrysanthemums were the main flower in bloom at the time, they were put on all the 30,000+ war monuments in France.
Widows dressed all in black, carrying chrysanthemums for the graves of their husbands is a prominent image of that first Armistice Day. That's how they became known at the widow's flower.
Monique wrote from France, "You won't find chrysanthemums in spring or summer because they're almost exclusively used on November 1st. They're the only ones that blossom naturally that late in the year. People bring them to their family members' graves then. It's why we never bring a bunch of chrysanthemums as a gift when we're invited."
It turns out that you should never give someone in Italy chrysanthemums either. They're put on graves for Il Giorno dei Morti (The Day of the Dead) on November 2nd.
More about Funeral Traditions in France.
Monique Palomares works with us on the French and Spanish versions of Mama Lisa's World.
This article was posted on Friday, January 15th, 2016 at 2:37 pm and is filed under Countries & Cultures, Customs and Traditions, France, Funeral Traditions, Italy, Mexico, Symbolism of Chrysanthemums, Symbolism of Flowers, Symbols. You can follow any responses to this entry through the RSS 2.0 feed. You can skip to the end and leave a response. Pinging is currently not allowed.
12 Responses to "Never Give a French Person Chrysanthemums"
Leave a Reply