Persian is the official language of Iran. Many other languages are spoken by different ethnic groups. One such group is the Arabs of Iran who live in southwestern Iran in Khouzestan province. The capital city is Ahwaz. One of our contacts has sent us some songs of Arabs of Iran, which you can find here.

Here are some of Mama Lisa's recent posts about the music, culture and traditions of
Iran
:
RELATED LINKS
Faranak Program
(In Persian)
Parent Child Mother Goose with Persian songs and Cued Speech (A communication mode for deaf people.)
Songs for Waking Up
(In Persian)
Popular Persian Kids Songs with Recordings (in Persian Only)
Iranian Children's Literature Site
(In Persian)
A big Iranian database of children's literature and reading activities for kids. including some lullabies.
Ketab Farsi
(In English and Persian)
Persian books and tapes for kids.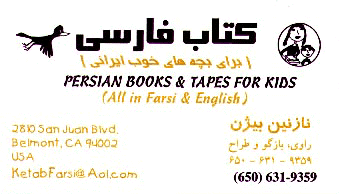 More From Mama Lisa