The Chinese text at the top of the page is the simplified Chinese text which is more commonly used in China. If you scroll down the page, you can find the traditional Chinese characters.

Two Tigers is sung to the tune of "Frère Jacques". I made the translation fit the tune (as long as you extend the beat on the word "two" when you sing it).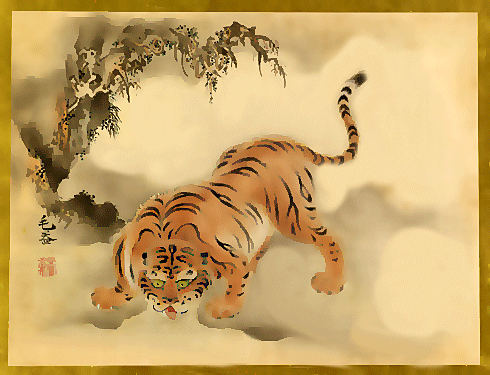 Children's Song
Children's Song
两只老虎
两只老虎
跑得快
跑得快
ㄧ只没有耳朵
ㄧ只没有尾巴
真奇怪
真奇怪
Two Tigers
Two Tigers
Running fast
Running fast
One of them has no eyes
One of them has no tail
Very strange!
Very strange!
Notes
Pinyin

Liǎng zhǐ lǎohǔ
liǎng zhǐ lǎohǔ
pǎo dé kuài
pǎo dé kuài
yī zhǐ méiyǒu yǎnjīng
yī zhǐ méiyǒu wěibā
zhēn qíguài
zhēn qíguài

Here's a slightly different translation by Frank:

Two tigers Two tigers
Run fast. Run fast.
One doesn't have ears.
One doesn't have a tail.
Really strange!
Really strange!

Here's a translation by Anna-Marie:

Two old tigers
Two old tigers
Running very fast
Running very fast
One has no eyes
One has no tail
How strange!
How strange!

It's been pointed out that the first two lines are literally "two tigers". Joyce wrote, "Not 'old' tigers... translated too literally... The word 'old' is in front of the word 'tiger', because people call tigers this way orally, even cubs, they would then literally be referred to as -young 'old' tigers- therefore, the 'old' should be omitted because it doesn't make sense."

Sammy Li Wei Long sent this English version below with the note: "Here is a little bit of correction for the song Ling Zhi Lao Hu in English so that people can sing it in English according to the tune..."

Liang Zhi Lao Hu , [Two Old Tigers]:

Two old tigers
Two old tigers
Run very fast
Run very fast
One of them has no eyes
One of them has no tail
Oh how strange
Oh how strange


Comments
Mandarin Transliteration

liang3 zhi3 lao3 hu3
liang3 zhi3 lao3 hu3
pao3 de kuai4
pao3 de kuai4
yi4 zhi3 mei2 you3 yan3 jing1
yi4 zhi3 mei2 you3 wei3 ba
zhen1qi2 guai4
zhen1 qi2 guai4

James Yannucci gave us this key to the numbers in the transliteration:

The numbers are the tones used for each word. The Chinese use 4 different tones:

1. Is a high level tone (almost like your singing the word)
2. Is a high rising tone
3. The tone starts at a neutral point then drops down low then returns.
4. Drops fast and abrupt

*****

Dutch Translation

twee oude tijgers
twee oude tijgers
lopen heel snel
lopen heel snel
ene heeft geen ogen
ene heeft geen staart
hoe raar is dat!
hoe raar is dat!

Many thanks to Yi Lin for singing this song in Mandarin for Mama Lisa's World!
Many thanks to Frank for the 2nd and 3rd recordings, the 2nd translation and the simplified Chinese text.

Sheet Music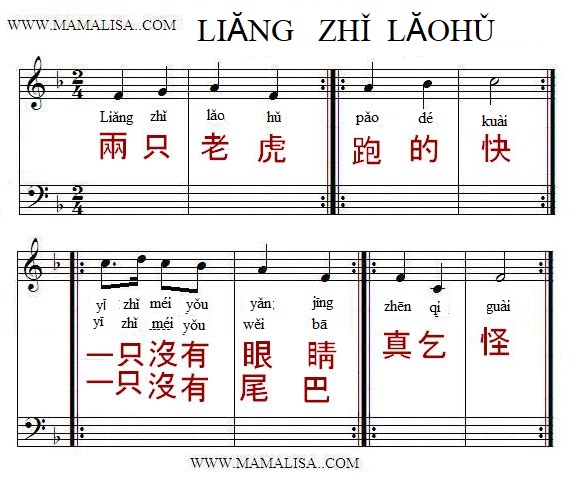 Thanks and Acknowledgements
1st translation by Lisa Yannucci. 2nd translation by Frank. Thanks to Frank for the text and translation. Thanks to Anna-Marie for translating the song into English (the 3rd translation) and Dutch. Thanks to James Yannucci for the Mandarin transliteration. Thanks to Joyce for writing about the meaning of this song and helping with the Chinese text.

Image: Tiger by Isen'in Hoin Eishin (1775–1828) in the style of Mao Yi (Chinese, active 12th century), between 1816 and 1828 (Edo), Japan, ink and colors on silk. Edited by Lisa.
M goi! & Xie xie!