Pan and Bottle
Nursery Rhyme
Nursery Rhyme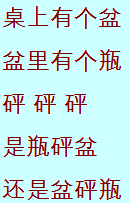 A pan on the table,
There's a bottle in the pan:
Bang, bang, bang.
Is it the bottle hitting the pan
Or the pan hitting the bottle?
Notes
Transliteration

pén hé píng
zhuō shàng you gè pén
pén li you gè píng
péng péng péng
shì píng péng pén
hái shì pén péng ping.
Comments
The Traditional Chinese Text in computer format (we apologize if it doesn't display properly on your screen):

盆和瓶

桌上有个盆
盆里有个瓶
砰 砰 砰
是瓶砰盆
还是盆砰瓶

Thanks and Acknowledgements
Many thanks to Anna-Marie for contributing, translating and providing the transliteration of this song.
M goi! & Xie xie!