Li Bai's poem "A Quiet Night Thought" (also translated as "Contemplating Moonlight"), is often learned by schoolchildren in China and Taiwan. The poem alludes to the Mid-Autumn Festival in which family get togethers are very important. On the night of the festival, families appreciate the moon which is at its fullest. It's the second most important holiday in China after the Chinese New Year.

In the poem, the author is far from home. "In a mere 20 words, the poem uses the vivid moonlight and frost imagery to convey the feeling of homesickness." -Wikipedia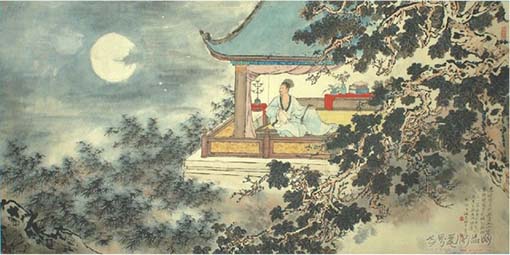 Mid-Autumn Festival Poem
Mid-Autumn Festival Poem
Moonlight in front of the bed,
Perhaps frost on the ground.
I look up at the bright moon
I look down and think of my hometown.

Notes
Written by Li Bai 李白 (701 – 762), who is also known as Li Bo. He was a prominent poet in the Tang dynasty. He was born in Suiye, which is now in Kyrgyzstan.

Pinyin

Jìng yè sī
(Li Bai)

Chuáng qián míngyuè guāng
Yí shì dìshang shuāng
Jǔtóu wàng míngyuè
Dītóu sī gùxiāng

Traditional Chinese Text

靜夜思

床前明月光
疑是地上霜
舉頭望明月
低頭思故鄉

*

There are different versions of this poem.

Another Version:

床前看月光,疑是地上霜。

抬头望山月,低头思故乡。

Translation:

Moonlight before my bed
Perhaps frost on the ground.
Lift my head and see the moon
Lower my head and pine for home.
Comments
According to this site: "Li Bai's 'Silent Night Thoughts' was created in the Yangzhou Hostel on September 15th in the 14th year of Emperor Xuanzong of Tang Dynasty (726) when Li Bai was 26 years old. At the same time, there is also a song 'Autumn Eve Traveling in Embrace'. On a starry night of a month, the poet looked up at the sky with a bright moon, and his homesickness spontaneously developed, and he wrote this famous poem 'Silent Night Thoughts', which has been passed down through the ages and is well-known at home and abroad."

Listen below to this poem recited in Mandarin and follow along with the Pinyin text in the Song Notes...
Read by "wxxw5775".
Listen below to an English rendition of the poem as translated by W. J. B. Fletcher (1879 - 1933):

The Moon Shines Everywhere

Seeing the Moonbeams by my couch so bright,
I thought hoar frost had fallen in the night.
On the clear Moon I gazed with lifted eyes:
Then hid them full of home's sweet memories.
Read by Sonia in English.
Thanks and Acknowledgements
1st translation by Lisa Yannucci.

Source of 1st Image Unknown - If anyone has any info on the painting, please email me. Thanks! -Mama Lisa

Image of Text: A screenshot of a partial page from the Kangxi (17th century) printed edition of Siku 四库, Tang Poem 唐诗 anthology. Shows lines and commentary of Li Bai 李白 Moonlight poem "静夜思". Courtesy National Central Library, Taipei, Taiwan. Lisa Yannucci edited the image to help clarify it.