This is a good rhyme for learning how to count in Spanish. You can jump rope to it or recite it while playing with a paper fortune teller. It's also used as a counting out rhyme to decide who goes 1st in a game.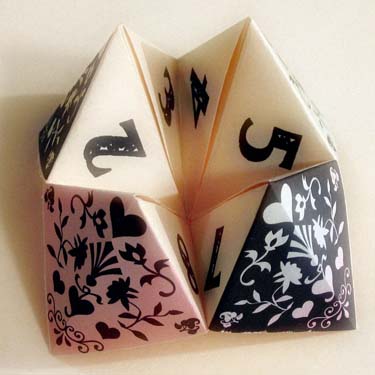 Manzanita del Perú
Little Apple from Peru
Rima para saltar a la comba
Jump Rope Rhyme
Manzanita del Perú
¿Cuántos años tienes tú?
Todavía no lo sé
Pero pronto lo sabré
Uno, dos, tres,
Cuatro, cinco, seis,
Siete, ocho, nueve, diez.

Little apple from Peru
How old are you?
I do not know yet
But soon I will know
One, two, three,
Four, five, six,
Seven, eight, nine, ten!
Notes
This is often played as a jump rope game with just the first 2 lines. Then the child answers, "Yo tengo __ años." Then they count up to their age while jumping on each number.

This is also used with paper fortune tellers (see pic above ) - Manzanita del Perú is actually a Spanish name for them along with "comecocos" (coconut eater), "sacapiojos/comepiojos" (lice-remover/lice-eater) or "adivinador de papel" (paper fortune teller). When moving the sections of the paper you recite this rhyme. There's a diagram below that shows how to make a Manzanita del Peru.

This rhyme can also be used with a new group to learn each other's names as follows:

Manzanita de Perú.
¿Cómo te llamas tú?

Little Apple of Peru
What is your name?