This song was originally called "Liten Julvisa" (Little Christmas Song).
Raska fötter springa tripp, tripp, tripp
Hasty Feet Run Quick, Quick, Quick!
Christmas Carol
Christmas Carol
Raska fötter springa tripp, tripp, tripp!
Mamma har så bråttom klipp, klipp, klipp!
Juleklappar lackas in.
Dörren stängs för näsan din.
Det är bara roligt.

Pappa har gått ut i sta'n, sta'n, sta'n;
Köper där en präktig gran, gran, gran.
Den skall hängas riktigt full,
Först en stjärna utav gull,
Nötter sen och äpplen.

Se nu är ju allting klart, klart, klart.
Barnen rusa in med fart, fart, fart.
Vem står där i pappas rock?
Jo, det är vår julebock.
Han har säkert klappar.

Alla barnen ropa: "Ack, ack, ack;
Snälla rara pappa, tack, tack, tack"!
Margit får en docka stor.
Gungehäst får lille bror.
Stina får en kälke.

Snart är glada julen slut, slut, slut.
Julegranen bäres ut, ut, ut.
Men till nästa år igen
Kommer han vår gamle vän,
Ty det har han lovat.

Hasty feet run quick, quick, quick!
Mom's so busy, she cuts, cuts, cuts!
Christmas gifts are wrapped.
The door closes before your nose.
It's just so much fun.

Dad has gone into town, town, town;
Buying a splendid spruce, spruce, spruce.
It shall be decorated to the max,
First, a star made out of gold,
Then nuts and apples.

See now, everything is colorful, ful, ful.
The children rush in very fast, fast, fast.
Who's there in daddy's coat?
Well, it's our Christmas goat,
He certainly has gifts.

All the children shout: "Oh boy, boy, boy!
Dearest daddy, thanks, thanks, thanks!"
For Margie, a big doll,
Little brother gets a rocking horse.
Christina gets a toboggan.

Soon merry Christmas ends, ends, ends.
The Christmas tree is thrown out, out, out.
But next year once again
Will come our old friend,
For it's what he promised.

Notes
Lyrics by Sigrid Sköldberg-Pettersson (1870 - 1941)
Melody by Emmy Köhler (1858-1925).


Sheet Music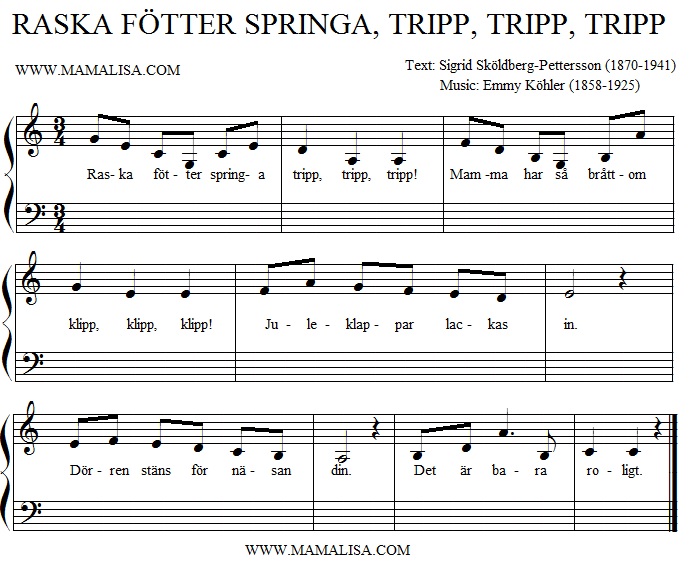 Thanks and Acknowledgements
Translated by Lisa Yannucci.