The Bunny Hop & Letkis Craze Around the World
April 3rd, 2015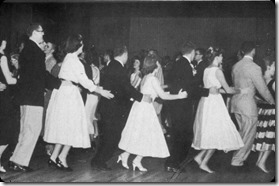 Do you remember doing the Bunny Hop? I learnt it as a kid in the early '70's in dance class.
The Bunny Hop and the Finnish Folk Dance called "Letkajenkka" (aka Letkis) are nearly identical.  Both became a dance craze around the world.
The Bunny Hop became popular in the early 1950's.  The Ray Anthony Orchestra recording of the song became a hit in 1952. People all over the US started doing the Bunny Hop.
Here's how to do the Bunny Hop:
Everyone form a (conga) line while holding the hips of the person in front of you.  Tap the floor two times with your right foot, then  tap two times with your left foot.  Then hop forwards, hop backwards, and hop, hop, hop (3 times forward). Continue these steps throughout the song.

Here's a video of people doing the bunny hop…
This article was posted on Friday, April 3rd, 2015 at 4:39 pm and is filed under Australia, Bunny Hop, Countries & Cultures, Customs and Traditions, Dances, England, English, Finland, Finnish, France, Games Around the World, Germany, Italy, Japan, Japanese, Jenkka, Languages, Letkajenkka, Letkis, Russia, Russian, Sweden, Traditional Dances, USA, YouTube. You can follow any responses to this entry through the RSS 2.0 feed. You can skip to the end and leave a response. Pinging is currently not allowed.
2 Responses to "The Bunny Hop & Letkis Craze Around the World"
LISA R Mandelstein Says:
April 6th, 2020 at 2:56 am

Hi – the original bunny hop link isn't working anymore – so excited to see this connection to the Russian dance! Very cool!

Lisa Says:
April 6th, 2020 at 6:15 pm

Thanks for letting me know about the videos Lisa! I added new ones to the page. Cheers! Mama Lisa
Leave a Reply