This rhyme is based on a Chinese novel from the 16th century called "Journey to the West".

Xuanzang was a Buddhist Monk and translator from the Tang dynasty who travelled to India to bring back some Buddhist scriptures (sutras). He's a real person, yet the novel is a folk tale account of his journey. In the novel, Xuanzang is given three protectors to accompany him on his journey - the monkey Sun Wukong, the pig Zhu Bajie and Monk Sha (Sandy).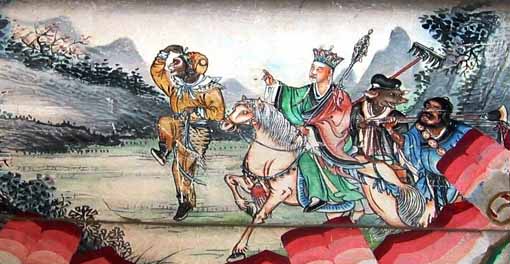 Nursery Rhyme
Nursery Rhyme
唐僧骑马咚那个咚,
后面跟着个孙悟空。
孙悟空,跑得快,
后面跟着个猪八戒。
猪八戒,鼻子长,
后面跟着个沙和尚。
沙和尚,挑着箩,
后面来了个老妖婆。
老妖婆,心最毒,
骗过唐僧和老猪。
唐僧老猪真糊涂,
是人是妖分不清。
分不清,上了当,
多亏孙悟空眼睛亮。
眼睛亮,冒金光,
高高举起金箍棒。
金箍棒,有力量,
妖魔鬼怪消灭光。

Monk Xuanzang rides his white horse, clop, clop,
Followed by Monkey Sun Wukong.
Sun Wukong, runs very fast,
Followed by Pig Zhu Bajie.
Zhu Bajie has a long nose,
Followed by Monk Sha, called Sandy
Sandy is lugging a heavy load,
Behind him came an old monster.
The monster, with the most poisonous heart,
Has deceived Monk Xuanzang and Pig Zhu
Monk Xuanzang and Pig Zhu are really baffled,
They cannot tell if it's a human or a monster.
They couldn't see it, they were deceived,
It was lucky that Monkey Sun Wukong's eyes are bright.
His eyes are bright with a golden light,
He holds the golden cudgel up high.
His golden cudgel has power
And wipes out all the demons and monsters.
Notes
Pronunciation:

tángsēng qímǎ dōng nàgè dōng,
hòumiàn gēnzhe gè sūnwùkōng.
Sūnwùkōng, pǎo dé kuài,
hòumiàn gēnzhe gè zhūbājiè.
Zhūbājiè, bízi zhǎng,
hòumiàn gēnzhe gè shā héshàng.
Shā héshàng, tiāozhe luó,
hòumiàn láile gè lǎo yāopó.
Lǎo yāopó, xīn zuì dú,
piànguò tángsēng hé lǎo zhū.
Tángsēng lǎo zhū zhēn hútú,
shì rén shì yāo fēn bù qīng.
Fēn bù qīng, shàng liǎo dàng,
duōkuī sūnwùkōng yǎnjīng liàng.
Yǎnjīng liàng, mào jīnguāng,
gāo gāo jǔ qǐ jīn gū bàng.
Jīn gū bàng, yǒu lìliàng,
yāomóguǐguài xiāomiè guāng.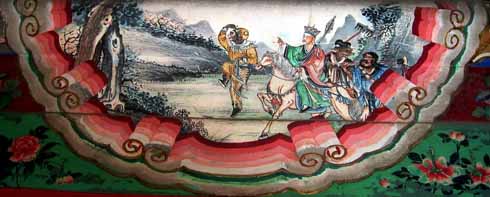 Thanks to Yi Lin for reciting this rhyme for us!

You can see the story of the rhyme unfold in the animation below.
Thanks and Acknowledgements
Translated by Lisa.

Images: Photograph of painting depicting a scene from the Chinese classic Journey to the West. The painting shows the four heros of the story, left to right: Sun Wukong, Xuanzang, Zhu Wuneng, and Sha Wujing. The painting is a decoration on the Long Corridor in the Summer Palace in Beijing, China. The photograph was taken by Rolf Müller on April 17, 2005 and is cc. The first photo is a detail of the 2nd one.