This song is part of the Advent custom called 'Herbergsuchen' (seeking shelter). It's common to sing this song on the nights leading up to Christmas. People go house-to-house asking for shelter (like Mary and Joseph looked for shelter in Bethlehem). The people in the house (in the role of the Innkeeper) sing one role while the carolers sing the other part. Sometimes the carolers are given food and drink or money.

In some towns there's a tradition where the carolers carry a picture of Mary - who becomes the "guest" of the house for a day, before being brought to another house on the following night. While the picture of Mary is in the house, the family sings carols by it. At Christmas Mass, the picture of Mary is returned to the church.

These traditions vary by region.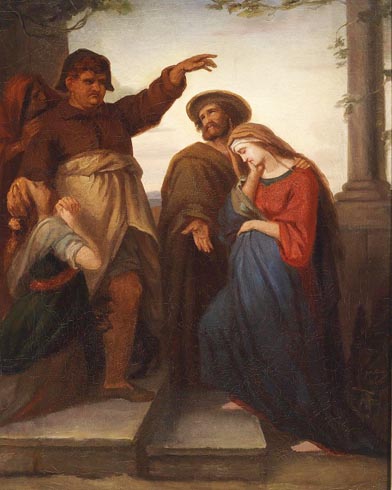 Wer klopfet an
Who's Knocking at the Door?
1. Wer klopfet an?
"O zwei gar arme Leut!"
Was wollt ihr dann?
"O gebt uns Herberg heut!
O, durch Gottes Lieb' wir bitten
Öffnet uns doch eure Hütten
O nein, O, nein!
"O lasset uns doch ein!"
Es kann nicht sein.
"Wir wollen dankbar sein!"
Nein, es kann nicht sein,
Da geht nur fort,
ihr kommt nicht rein.

2. Wer vor der Tür?
"Ein Weib mit ihrem Mann."
Was wollt ihr denn?
"Hört unser Bitten an!
Lasset heut bei Euch uns wohnen
Gott wird Euch schon alles lohnen!"
Was zahlt ihr mir?
"Kein Geld besitzen wir!"
Dann geht von hier!
"O öffnet uns die Tür!"
Ei, macht mir kein Ungestüm,
Da packt euch, geht woanders hin!

3. Was weinet ihr?
"Vor Kält erstarren wir."
Wer kann dafür?
"O gebt uns doch Quartier!
Überall sind wir verstoßen,
Jedes Tor ist uns verschlossen!"
So bleibt halt drauß!
"O öffnet uns das Haus!"
Da wird nichts draus.
"Zeigt uns ein andres Haus."
Dort geht hin zur nächsten Tür!
Ich hab nicht Platz, geht nur von hier!

4. Ihr kommt zu spät!
So heißt es überall!
Da geht nur, gehtl
O Freund, nur heut einmal!
Morgen wird der Heiland kommen
Dieser liebt und lohnt die Frommen
Liegt mir nichts dran!
Seht unser Elend an
Geht mich nichts an!
Habt Mitleid, lieber Mann
Schweigt mir gleich,
Laßt mich in Ruh
jetzt geht, ich schließ die Tür schon zu.

5. Da geht nur fort!
"O Freund, wohin? Wo aus?"
Ein Viehstall dort!
"Geh, Joseph, nur hinaus!
O mein Kind, nach Gottes Willen
Mußt du schon die Armut fühlen."
Jetzt packt euch fort!
"O, dies sind harte Wort'!"
Zum Viehstall dort!
"O, wohl ein schlechter Ort!"
Ei, der Ort ist gut für euch;
Ihr braucht nicht viel.
Da geht nur gleich!

6. Komm Sünder her!
Jetzt Sünder hör mich an
Ja komm nur her.
Und hör was du getan
Du hast Jesum so verstoßen
Hast ihm jede Tür verschlossen
O Sünder wein!
O sieh dein Jesulein
muß jetzt o Pein!
Im kalten Stalle sein
O wie grausam ist die Sünd
Die so verstößt das beste Kind.

1. Who's knocking at the door?
"Oh, two weary poor people."
What do you want then?
"Oh, give us lodging already.
Oh, by the Lord, we ask kindly,
Still, open your cabin for us."
Oh, no! Oh, no!
"Oh, just let us in!"
It can not be.
"We want to be grateful!"
No, it can not be.
There, just walk away
You will not come inside.

2. Who's outside the door?
"A woman with her husband."
What do you want?
"Listen to our prayers!
Let us live with you today,
God will reward you all!"
What will you pay me?
"We have no money!"
Then go away from here!
"Oh, open the door!"
Ah, don't be impetuous with me,
There, bundle yourselves away, go elsewhere!

3. Why do you weep?
"From cold we freeze."
Who can help it?
"Oh, but give us quarters!
Everywhere we are thrown out,
Each gate is closed to us! "
So stop staying there!
"Oh, open the house to us!"
Nothing will happen.
"Show us another house."
There, go next door!
I have no space, just go from here!

4. You come too late!
"It's said everywhere!"
Then just walk, walk.
"Oh friend, just once today!
Tomorrow the Savior will come,
He loves and rewards the pious."
I care nothing of it!
"Look at our misery."
It does not concern me!
"Have pity, dear man.
Silence me at once."
Leave me alone
Now go, I'll lock the door now.

5. Then just walk away!
"Oh friend, where to? Where to?"
A cowshed there!
"Go, Joseph, just over there!
Oh my child, according to God's will
You must already feel the poverty. "
Now you clear out!
"Oh, these are hard words!"
Make for the cowshed there!
"Oh, it's probably a bad place!"
Ah, the place is good for you;
You do not need much.
Then just go right now!

6. Come here sinner!
Sinner now listen to me.
Yes, come just here
And hear what you've done.
You have afflicted Jesus so,
You have closed every door to him,
Oh sinner, weep!
Oh, see your little Jesus,
Must now, oh torment,
Be in the cold stable.
Oh, how cruel is the sin
That so afflicts the finest child.
Notes
This song dates back to the 19th century and is from Tyrol.

In the video below you can see the custom of the carolers bringing the picture of Mary to a house where she will stay for a day, before being brought to another house on the following night. Holiday songs are sung by the picture.
Thanks and Acknowledgements
Translated by Lisa Yannucci. Thanks to Monique Palomares for help editing the translation!

Image: Josef und Maria auf Herbergsuche attributed to Carl Rahl circa 1865.