A Poem in German about Spring with a Recording and Translation
April 17th, 2018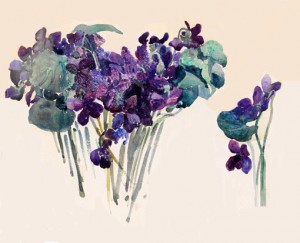 Here's a pretty little German poem about Spring called "Er Ists" by Eduard Moerike (1829). It's well-known in Germany and is often quoted when the spring approaches.
You can listen to a recording of the poem below and read along with the text and English translation.
Er Ists
By Eduard Moerike
Fruehling laesst sein blaues Band
Wieder flattern durch die Luefte;
Suesse, wohlbekannte Duefte
Streifen ahnungsvoll das Land.
Veilchen traeumen schon,
Wollen balde kommen.
—Horch, von fern ein leiser Harfenton!
Fruehling, ja du bists!
Dich habe ich vernommen!
English Translation:
It's Him
Spring lets his blue ribbons
Flutter through the air once more;
Sweet, familiar scents
Drift over the land with promise.
The violets are dreaming by now,
They want to come out soon.
-Hark, the sound of a soft harp from afar!
Yes, it's you Spring!
It's you I heard!
Image:  A watercolor painting of Violets by Alice Carmen Gouvy (circa 1900).
This article was posted on Tuesday, April 17th, 2018 at 9:44 pm and is filed under Austria, Countries & Cultures, German, German Poems, Germany, Languages, Mama Lisa, MP3's, MP3's of Poems, Poems, Poems about Spring, Poetry, Recordings, Recordings of Poems. You can follow any responses to this entry through the RSS 2.0 feed. You can skip to the end and leave a response. Pinging is currently not allowed.
Leave a Reply