Recipe for German Christmas Cookies Called Zimtsterne
December 23rd, 2015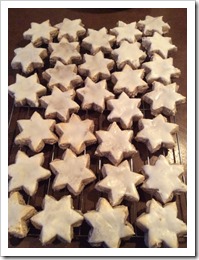 Zimtsterne literally translates from German to English as Cinnamon Stars. They're Cinnamon Star Cookies
These cookies are a specialty of Germany, Austria, Alsace (Region of France) and Switzerland. They're made for Christmas and in Alsace, they're part of the "bredele" Christmas cookie tradition. These are also made by German Jewish people for Yom Kippur. They call them Erste Sternen (first stars) and they're eaten as part of the first meal after the Yom Kippur fast. The German version often includes lemon juice and ground cloves.
Here's the recipe…
Recipe for Zimtsterne Cookies
Ingredients
2 Egg Whites
2 cups Confectioner's Sugar (250g.)
Pinch of Salt
3 cups Ground Almonds (300g.)
1 – 2 teaspoons Cinnamon
For Icing
1 Egg White
1 1/4 – 1 1/2 cup Confectioner's Sugar (130g.+)
*****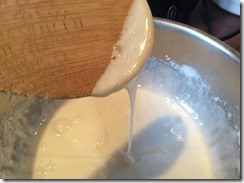 1. Put 2 egg whites in a mixing bowl and beat on medium until peaks form. 
2. Slowly add the 2 cups of confectioner's sugar until mixed.  Add in a pinch of salt.
3. In another bowl, mix the ground almonds and the cinnamon.
4. Add the egg white & confectioner's sugar mixture to the bowl with the ground almonds. Mix it with a wooden spoon first and then knead it with your hands. Form a disc.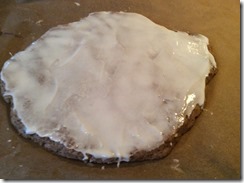 5. Roll out the dough to about 3/8". Place on a tray lined with parchment paper and put in the freezer for 1/2 hour.
6. To make the icing, first beat the other egg white until it forms peaks.  Then mix in the 1 1/4 – 1 1/2 cups of confectioner's sugar.
7. Line 2 cookie sheets with parchment paper.
8. When the dough is ready, take it out. Spread a thin layer of the icing over the top of the dough.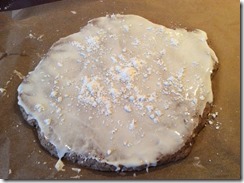 9.  Sprinkle some confectioner's sugar over the icing and spread it around so the top is not wet.
10. Use a Star Cookie Cutter (normally a star with 6 points) to make the cookie shapes and put them on the lined cookie sheets.
11. Roll out leftover dough and repeat the process.
12. Preheat the oven to 360F. Bake cookies for 5 – 7 minutes until the icing looks set.  Let cool and then store the cookies in a tin.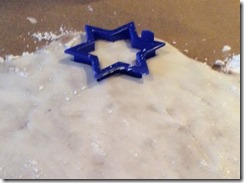 I used a star cookie cutter that is 2 1/2" and the recipe yielded 32 cookies.
Enjoy!
This article was posted on Wednesday, December 23rd, 2015 at 11:53 pm and is filed under Alsace, Alsatian, Austria, Bredele, Christmas, Christmas Cookies, Christmas Recipes, Cookies, Countries & Cultures, Desserts, France, German, Germany, Holiday Recipes, Holidays Around the World, Languages, Recipe for Zimtsterne, Recipes for Yom Kippur, Recipes of the World, Switzerland, Yom Kippur. You can follow any responses to this entry through the RSS 2.0 feed. You can skip to the end and leave a response. Pinging is currently not allowed.
Leave a Reply