Las Posadas in Mexico
December 17th, 2015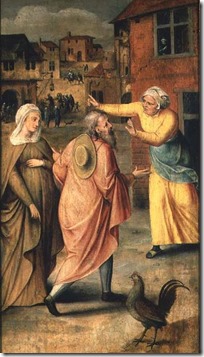 Las Posadas (The Inns) is a tradition in Mexico that starts on December 16th and continues until December 24th. It's also celebrated in Guatemala, Colombia and El Salvador.
People go singing from house to house, acting out when Joseph and Mary tried to find lodging in Bethlehem and were turned away.  They sing the song Villancico para pedir posada (Searching for an Inn Carol). 
The carolers outside the house sing the part of Joseph and Mary, while the people inside the house sing the part of the innkeepers turning them away.
You can watch people singing the song for Las Posadas in the video below…
You can learn the lyrics to the Las Posadas song in Spanish with an English translation. (French Translation here.)
Learn more about Las Posadas and watch more videos here.
There's a similar tradition in Austria where they sing Wer klopfet an (Who's Knocking at the Door?) and go door to door.
Enjoy the Season!
Mama Lisa
Image: Painting – Hospitality refused to the Virgin and St. Joseph (1558) by Jan Massys.
This article was posted on Thursday, December 17th, 2015 at 7:15 pm and is filed under Advent, Advent Songs, Austria, Children's Songs, Christmas Carols around the World, Christmas Songs, Colombia, Countries & Cultures, El Salvador, Guatemala, Holiday Songs, Holidays Around the World, Las Posadas, Las Posadas, Las Posadas Songs, Mexican Children's Songs, Mexico. You can follow any responses to this entry through the RSS 2.0 feed. You can skip to the end and leave a response. Pinging is currently not allowed.
One Response to "Las Posadas in Mexico"
Breaking a Piñata for Las Posadas in Mexico Says:
December 18th, 2015 at 2:29 pm

[…] Las Posadas is part of the Christmas caroling tradition in Mexico. People go from house to house reenacting Joseph and Mary looking for housing in Bethlehem. Part of the Las Posadas tradition is breaking a piñata. […]
Leave a Reply