Breaking Piñatas for Las Posadas in Mexico (+ a Piñata Song)
December 18th, 2015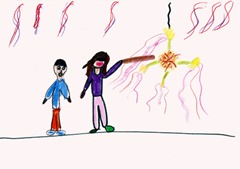 Las Posadas is part of the Christmas caroling tradition in Mexico. People go from house to house reenacting Joseph and Mary looking for housing in Bethlehem. After caroling, people have parties with piñatas.
Piñatas are made of papier-mâché, tissue paper and sometimes clay inside. They're filled with candy. People take turns beating the piñata with a stick until it breaks open and the candy comes pouring out.
The piñatas used for Las Posadas are usually in the shape of a star with 5, 7 or 9 points. For Christians, each point represents one of the deadly sins. Beating the piñata represents fighting sin and the candy pouring out represents the reward for fighting evil.
There's a song that's sung while people try to break the piñata. It goes like this…
Dale, dale, dale,
No pierdas el tino,
Porque si lo pierdes
Pierdes el camino.

Ya le diste uno,
Ya le diste dos,
Ya le diste tres
Y tu tiempo se acabó.

English Translation:

Hit, hit, hit,
Don't lose your aim,
Because if you lose it,
You'll lose the way.

You've hit it once,
You've hit it twice,
You've hit it thrice,
Now your time is up.
You can watch people hitting the piñata with a stick and singing the piñata song in the videos below…
Here you can learn more lyrics to the Cantos para romper la piñata (Songs for Breaking the Piñata).
Enjoy!
Mama Lisa
This article was posted on Friday, December 18th, 2015 at 2:29 pm and is filed under Children's Songs, Christmas, Countries & Cultures, Games Around the World, Holiday Songs, Holidays Around the World, Las Posadas, Las Posadas, Las Posadas Songs, Mexican Children's Songs, Mexico, Piñatas. You can follow any responses to this entry through the RSS 2.0 feed. You can skip to the end and leave a response. Pinging is currently not allowed.
2 Responses to "Breaking Piñatas for Las Posadas in Mexico (+ a Piñata Song)"
Maite Says:
November 27th, 2017 at 2:00 am

Actually, in Posadas we fill the piñatas with fruits too, such as jicamas, cane, lemons, tangerines and sometimes peanuts, sometimes they're filled with only fruits, only candy or both.

Simon Says:
November 29th, 2019 at 6:32 am

These videos are incredible. It is exactly what my family does – I'm in one of the videos
Leave a Reply