Eight Hundred Spearmen
Tongue Twister
Tongue Twister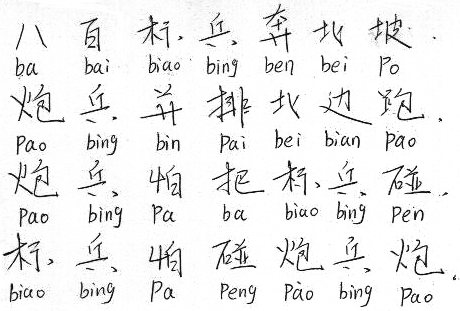 Eight hundred spearmen rush towards north hill slope
Artillery soldiers abreast in rows run towards the north
Artillery soldiers afraid to bump into the spearmen
Whereas the spearmen are afraid to bump into the artillery's bomb.
Comments
This tongue twister is used by singers in the Beijing Opera as a warm-up exercise.

The Traditional Chinese Text in computer format (we apologize if it doesn't display properly on your screen):

八百標兵奔北坡
炮兵並排北邊跑
炮兵怕把標兵碰
標兵怕碰炮兵砲

Pinyin

ba bai biao bing ben bei po
pào bing bin pai bei bian pao
pào bing pa ba biao bing pen
biao bing pa peng pào bing pào

Many thanks to Yi Lin from China for reciting this tongue twister in Mandarin.
Thanks and Acknowledgements
Thanks to Yi Lin for sending this rhyme and to Emma for the computerized version of the Chinese text. Thanks also to David W. Solomons, Agnes Sim and Ray Lee for help with the translation.
M goi! & Xie xie!