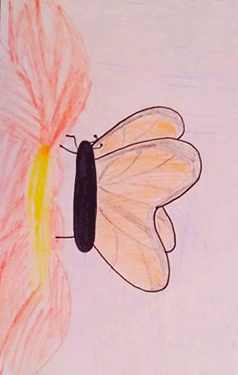 A Borboleta
The Butterfly
Christmas Carol
Christmas Carol
Borboleta pequenina,
Saia fora do rosal
Venha ver quanta beleza,
Hoje é noite de Natal!
(bis)

Boanoite, meus senhores
e senhoras que aqui estão
Venham ver a Borboleta
e também os dois Cordões
(bis)

Borboleta pequenina,
Saia fora do rosal
Venha ver quanta beleza,
Hoje é noite de Natal!
(bis)

Eu sou uma borboleta,
Pequenina e feiticeira
Ando no meio das flores
Procurando quem me queira…
(bis)
Tiny Butterfly,
Go out of the rose garden,
Come see so much beauty,
Today is Christmas Eve!
(Repeat)

Good evening, ladies
and gentlemen who are here,
Come see the Butterfly
and also the two chains.
(Repeat)

Tiny Butterfly,
Go out of the rose garden,
Come see so much beauty,
Today is Christmas Eve!
(Repeat)

I'm a butterfly,
Tiny, and a charmer,
I walk among the flowers
Looking for someone who wants me…
(Repeat)
Notes
This song is sometimes sung only repeating the first and last verses.

An early version of this song can be found in "Cantos populares do Brasil" by Sílvio Romero (1851-1914), published in 1897.


Sheet Music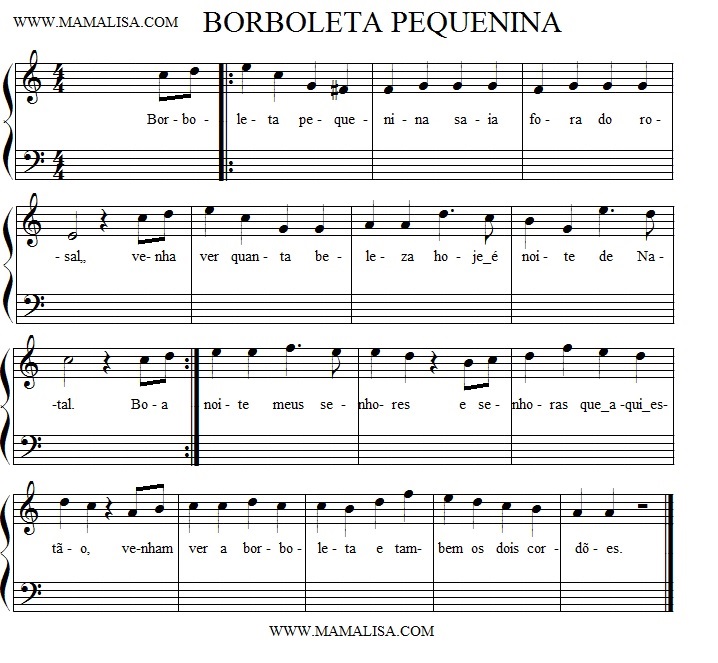 Thanks and Acknowledgements
Many thanks to Luana B. for contributing this song! Translated by Luana and Lisa. Thanks to Lila for the illustration!
Obrigada!