"There are quite a few messages in the song for the attentive kid: don't do things on a whim, remember that you are new at everything, it's hard to control others, the consequences of being overly confident can surprise you, and so on ..." –Pete Paradiso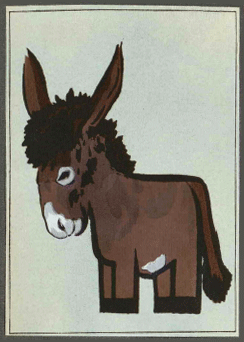 Children's Song
Children's Song
我有一头小毛驴,我从来也不骑。
有一天我心血来潮,骑着去赶集。
我手里拿着小皮鞭,心里正得意。
不知怎么哗啦啦啦摔了我一身泥。
I have a little donkey, I'd never tried to ride.
One day on a whim, I rode him into the market.
I had a little whip, I was feeling very proud of myself.
I don't know how, whoosh! I was thrown into the mud!
Notes
Pinyin Pronunciation

Xiǎo máolǘ

Wǒ yǒu yī tóu xiǎo máolǘ,wǒ cónglái yě bù qí.
Yǒu yī tiān wǒ xīnxuèláicháo,qí zhe qù gǎnjí.
Wǒ shǒulǐ názhe xiǎo píbiān,xīnli zhēng déyì.
Bùzhī zěnme hulálálá shuāi le wǒ yī shēn ní.


Many thanks to Fang Xiao Yan for singing this song for us.
Many thanks to Yi Lin for the 2nd recording, for reciting the song in Mandarin.
Thanks and Acknowledgements
Many thanks to Pete Paradiso for contributing and translating this song! Pete is the publisher of a blog about every day life in China called Emperor Cuckoo.

The image is from "Grosses bêtes & petites bêtes", images and text by André-Hellé (Paris, 1912), with a little graphical editing by Mama Lisa Yannucci.
M goi! & Xie xie!