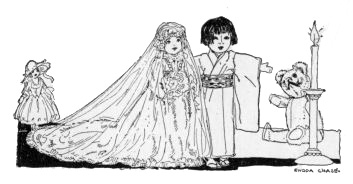 Arroz con leche
Rice Pudding
Canción de corro
Circle Game
Arroz con leche
Me quiero casar
Con una señorita
De Portugal
Que sepa coser,
Que sepa bordar,
Que sepa abrir la puerta
Para jugar.
Con ésta sí,
Con ésta no,
Con esta señorita
Me caso yo.
Rice Pudding
I want to get married
To a lady
From Portugal,
Who knows how to sew,
Who knows how to embroider
Who knows how to open the door
To play.
With this one yes,
With this one no,
With this one
I'll be wed.
Game Instructions
Some girls make a round and sing hand in hand. At the end, they hug two by two and the one left alone has lost.

Thanks and Acknowledgements
Many thanks to Mary Falla Segura from San Borja, Lima, for contributing this song.
¡Muchas gracias!