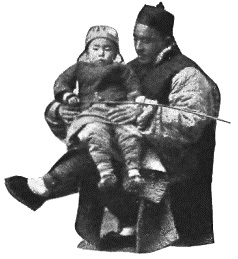 The Little Golden Sister
Nursery Rhyme
Nursery Rhyme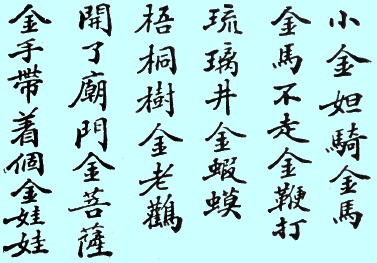 My little golden sister
Rides a golden horse slow,
And we'll use a golden whip
If the horse doesn't go.

A little gold fish
In a gold bowl we see,
And a gold-colored bird
On a gold-blossomed tree.

A gold-plated god
In a gold temple stands,
With a gold-plated baby
In his gold-plated hands.
Comments
If anyone can provide the Pinyin or the simplified Chinese text, please email me at lisa@mamalisa.com Thanks! -Mama Lisa

I also welcome comments about the translations and alternate, more literal translations if applicable.
Computerized Text
(We apologize if this doesn't display properly on your screen):
小金妲骑金马
小金妲骑金马
金马不走金鞭打
琉璃井金虾蟆
梧桐树金老鹳
开了庙门金菩萨
金手带着个金娃娃
Thanks and Acknowledgements
This rhyme and the English translation above are from the book, Chinese Mother Goose Rhymes, by Isaac Taylor Headland of Peking University (copyright 1900).

Many thanks to Yuan Ping for typing this rhyme in Chinese text for us!
M goi! & Xie xie!