Aserrín, aserrán
Saw, Saw
Canción infantil
Children's Song
Aserrín, aserrán,
Los maderos de San Juan
Piden pan,
No les dan
Piden queso,
Menos eso,
Piden vino si les dan,
Se marean y se van.
Saw, saw
The woodsmen of San Juan
Ask for bread,
They're given none,
Ask for cheese,
Even less please!
Ask for wine, if they're given some
They get sick and go back home.
Notes
"Aserrín" is sawdust, and "aserrín aserrán" is an onomatopoeic form to imitate the sound of the saw.
Game Instructions
The way to play "Aserrín, aserrán" is : while the child "rides" the adult's knees, the adult holds the child's hands and makes a push and pull saw movement.
Comments
Rossi's grandma used to sing it.


Sheet Music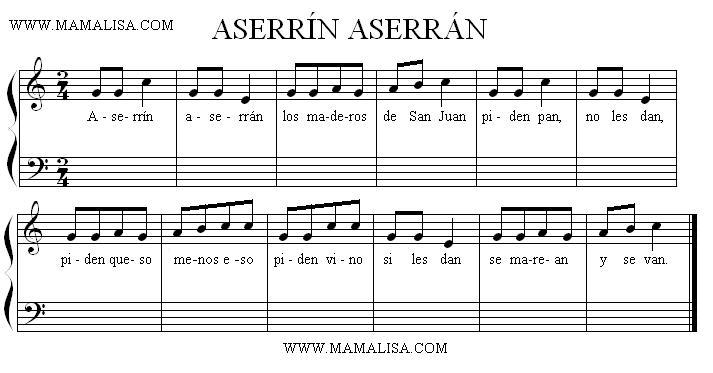 Thanks and Acknowledgements
Many thanks to Rossi N Leiva-Figueroa for contributing this song.
¡Muchas gracias!