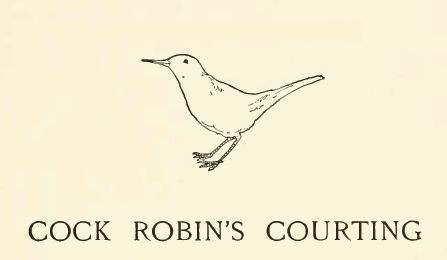 Cock Robin got up early
At the break of day,
And went to Jenny's window,
To sing a roundelay.

He sang Cock Robin's love
To the pretty Jenny Wren;
And when he got unto the end,
Then he began again.
Thanks and Acknowledgements
This rhyme can be found in The Nursery Rhyme Book, edited by Andrew Lang and illustrated by L. Leslie Brooke (1897). The illustration can be found in The Big Book of Nursery Rhymes (circa 1920) edited by Walter Jerrold (1865 - 1929) and illustrated by Charles Robinson (with some graphical editing of the above image by Lisa Yannucci).