Irish Blessing for Luck
March 12th, 2013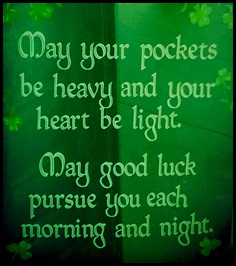 Here's an Irish Blessing just in time for St. Patrick's Day…
Irish Blessing
May your pockets be heavy
And your heart be light.
May good luck pursue you
Each morning and night.
Happy St. Patrick's Day!
-Mama Lisa
This article was posted on Tuesday, March 12th, 2013 at 2:46 pm and is filed under Blessings, Canada, Countries & Cultures, Customs and Traditions, English, Folk Lore, Good Luck, Holidays Around the World, Ireland, Irish Rhymes, Languages, Nursery Rhymes, Proverbs, Quotes, Rhymes by Theme, Sayings, St. Patrick's Day, United Kingdom, USA. You can follow any responses to this entry through the RSS 2.0 feed. You can skip to the end and leave a response. Pinging is currently not allowed.
Leave a Reply