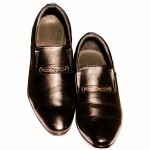 First-foot is a tradition in Great Britain where the first person who enters a person's house (the "first-foot") in the New Year will bring good or bad luck.
Rosetta Ceesay wrote, "New year in Northern Ireland it's still seen as bad luck if your first visitor in the new year is a female, so people ensure that the 'first footer' is male and the custom is that he should bring a piece of coal to offer the household. This is to wish them warmth in their home in the coming year."
Many thanks to Rosetta for sharing this tradition with us!
Happy New Year!
Mama Lisa
Image: Wikipedia