Recipe for Panettone (Italian Holiday Bread)
January 6th, 2016
Panettone is the bread you see sold in boxes in stores in December. It's originally from the city of Milan in Italy.  Nowadays, it's eaten in many countries during the Christmas season… it's also eaten for St. Stephan's Day, New Year's and the Epiphany (in some places it even replaces King's Cake). Plus it's eaten at Easter-time in Italy.
Interestingly, even Italians buy panettone in a box in the store!  They usually bring it when invited to someone's house during the holiday season.
It's fun to try to make panettone!  The traditional version takes at least 24 hours to prepare. Some recipes take even longer. That's what gives it such a fluffy texture. But it's also why Italians often buy panettone in the store! So if you're going to make your own panettone, be prepared to make it over a 24 hour time period.
You begin by making the Starter Dough and letting it rise overnight.  Then you'll add the Starter Dough to the other ingredients and let it rise two more times. 
Traditionally, candied orange, lemon zest and raisins are added to the bread. Nowadays, people add other types of fruit too including cranberries, chopped dried apricots, pineapple, papaya or candied fruit. Sometimes chocolate is added. You can also stew the dried fruit in triple sec if you'd like.  You can choose what type of dried or candied fruit to put in. For this recipe, about 1 1/2 cups is ideal.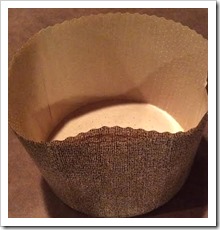 Finally, you'll need a panettone mold. You can buy them in specialty stores or online. I used a 6" mold.
Recipe for Panettone
(Allow 24 Hours to make)
Day 1
Fruit Ingredients (1 1/2 cups)
If you decide to stew the dried fruit in Triple Sec, measure out the fruit first and let it stew overnight. Otherwise, measure out the fruit on the day you're going to cook the bread.
1/2 cup Golden Raisins
1/2 cup Cranberries
1/2 cup chopped Dried Pineapple
1/2 – 3/4 cup Triple Sec (Optional)
1. Put the raisins in a small saucepan and fully cover with water. Bring to a boil and drain. Measure out the rest of the fruit.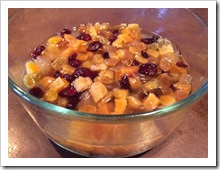 2. If desired put all of the fruit in a container and cover with Triple Sec. Allow to sit (up to 3 days).
3. Drain well before using.
Starter Dough Ingredients
3/4 cup All-Purpose Flour
1/16th teaspoon of Yeast
1/3 cup Water
1. Mix all of the ingredients for the starter dough. Cover with a towel in a warm spot on the countertop. Let sit overnight.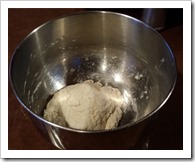 Day 2
Dough Ingredients
Starter Dough (from above)
1/2 cup Milk (105 – 115F)
1 Package of Fast Rising Yeast
1 T. Sugar
1/2 cup + 2 1/4 cup Flour
2 Eggs
1 T. Orange or Lemon Zest
1 t. Salt
1/4 cup Sugar
4 T.  Butter (Melted & Cooled)
1/2 t. Fiori di Sicilia
(or 1 t. Vanilla + 1/4 t. Orange Extract + 1/4 t. Lemon Extract)

1. Whisk together milk, yeast and the 1 tablespoon of sugar in a bowl. Let sit until foamy.
2. Whisk in 1/2 cup of flour.
3. Whisk in eggs, zest, salt, 1/4 cup of sugar, butter, and Fiori di Sicilia.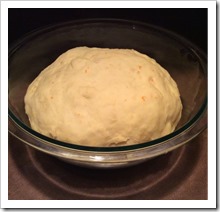 4. Slowly add in the rest of the flour, stirring with a wide wooden spoon. Once it becomes too difficult to stir, switch to adding the rest of the flour while kneading by hand. Then add in the Starter Dough. Knead it into the dough.
You can add in a little more flour if necessary.  The goal is to get a smooth consistency that's not sticky.
5. Form the dough into a ball and place in a clean bowl. Cover with a towel and let rise, until double, about 2 hours.
6. Punch down the dough. Add in the fruit. You have to knead it in. The easiest way is to put a little fruit in at a time and fold it in.  Do that a couple of times and then turn the dough 90 degrees. Repeat the process. If you turn the dough once in a while it makes it easier mix the fruit in. Try to get it into a round shape.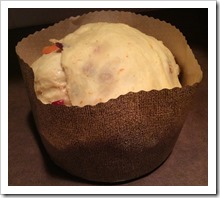 Traditionally in Italy the man of the household would mark a cross on top of the dough with a knife before cooking it for good luck in the New Year.
7. Put the dough in the panetonne mold or pan. Cover with a towel and let rise until double, about 2 hours.
8. Preheat the oven to 400F.
9. Put the panetonne mold (with the dough in it) on a cookie sheet.
10. Cook for 10 minutes. Lower oven to 375F. Tent a piece of  aluminum foil over the panettone to prevent the top from burning.
11. Cook for 10 minutes. Lower oven to 350F. Cook for 25 more minutes.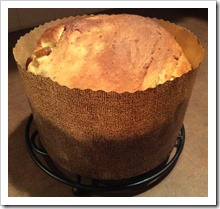 Let cool. Then wrap it tightly until eating.
It's nice to warm it up and eat it with a little butter. In Italy, it's often served with coffee, cappuccino or sweet wine.
Enjoy, or as my grandmother used to say, "Mangia!"
Mama Lisa
This article was posted on Wednesday, January 6th, 2016 at 10:18 pm and is filed under Bread, Christmas, Christmas Recipes, Countries & Cultures, Easter, Easter Recipes, England, Epiphany, Holiday Recipes, Holidays Around the World, Italian American, Italy, Kings Day, New Year's Day, New Years, Recipe for Panettone, Recipes of the World, St. Stephen's Day, USA. You can follow any responses to this entry through the RSS 2.0 feed. You can skip to the end and leave a response. Pinging is currently not allowed.
One Response to "Recipe for Panettone (Italian Holiday Bread)"
Recipe for Quick Panettone Says:
January 7th, 2016 at 9:47 pm

[…] Traditionally, it's made over a 24+ hour time period. The long period yields a fluffy panettone bread.  The recipe below is much quicker to make. It will yield a thicker bread. It's still […]
Leave a Reply