Kings Day in France and a Recipe for French Kings Cake
January 2nd, 2007
Kings Day is also known as the Epiphany and takes place on January 6th. It's the day the Three Kings are said to have presented their gifts to Jesus.
In France, Kings Day is called Le jour des rois or La fête des rois. In honor of this day they eat Galette des Rois or Kings Cake. Last year I wrote about this fun little French fête and posted a recording of the song J'aime la galette or I Love Cake!
The cake they eat most traditionally in northern France is a flat round cake with an almond/butter filling called frangipane. The tradition is to bake a trinket or bean inside the cake. It's called la fève in French, which means broad bean. That's because originally they always baked a real broad bean inside the cake. Now the trinket is also called la fève.
Whoever gets the slice with la fève is King or Queen for the day. They're given a golden cardboard crown to wear all day long. Their duty as king or queen is to buy or make the next galette des rois!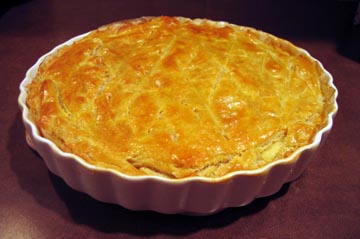 Since trinkets are hard to find outside of France, Spain and New Orleans (where they have a similar tradition), a good alternative is a whole almond (without the shell of course).
Here's a delicious recipe for Galette des Rois…
Recipe for Kings Cake – Galette des Rois

Tart Pan about 10 inches in diameter

2 layers of Puff Pastry*
7/8 cup ground-up Almonds
1 cup Powdered Sugar
7 T. + 1 1/2 t. softened Butter (just under 1 stick)
2 T. Rum (optional) or 1 1/4 t. Orange Flower Water (optional)
2 Eggs (keep one of the yolks separate)
A little Milk

1 Fève – trinket, bean or nut (must I say it? be careful – could be a choking hazard!)

*I bought the Pepperidge Farm brand puff pastry which comes in square sheets. If your puff pastry comes in square sheets or doesn't fit your tart pan, you'll need to roll it out with a rolling pin on a lightly floured surface. I'll explain how below.

1) If you bought frozen puff pastry, thaw it in advance according to the directions on the package.

2) Pre-heat the oven to 350°F or 180°C. Grease the tart pan with butter.

3) Mix all ingredients [except for 1 egg yolk, milk and puff pastry] with electric whisk until creamy.

4) Stretch puff pastry with the rolling pin, on a lightly floured surface, until it fits the pan going up the sides (even a little more) and spread the first layer of puff pastry in the pan. Prick with a fork.

5) Spread the cream filling evenly on the first layer of puff pastry and bury the trinket into it.

6) Roll out the 2nd layer of puff pastry with the rolling pin to make it big enough to fit over the first layer. Moisten the rim of the 1st layer of puff pastry with water and cover the first layer with the second layer of puff pastry.

7) Pass the rolling pin on the edge of the pan to cut off the excess dough, then press the two edges together with your finger to make them stick.

8) Make some little holes in the top to allow the steam out or the rim will burst and the filling will overflow.

9) Draw diamonds or half circles starting from the center to the rim like in the diagram below.

10) Brush the top with the yolk mixed with a small amount of milk. This will give it a nice golden color.

Bake in oven for around 25 minutes. Check from 20 minutes until baked a nice golden brown.
Here are the metric equivalents of the ingredients:
125g Ground Almonds
125g Powdered Sugar
100g Softened Butter
I made this recipe with Orange Flower Water which I purchased on the internet at The Spice House. It gave the Galette des Rois a very unique taste.
Many thanks to Monique Palomares of Mama Lisa's World en français and Monique's former colleague Geneviève for the delicious recipe! Thanks also to Monique for her explanation of the tradition and for the diagram and to Monique's Class of 2006 for the wonderful recording of J'aime la galette.
Merci et bon appétit!
-Lisa
This article was posted on Tuesday, January 2nd, 2007 at 6:45 pm and is filed under Canada, Countries & Cultures, Desserts, Epiphany, France, French, French Kids Songs, Galettes des Rois or Kings Cake, Holiday Songs, Holidays Around the World, J'aime la galette - I Love Cake!, Kings Cake, La fête des rois or Kings Day, Languages, Mama Lisa, Recipes of the World. You can follow any responses to this entry through the RSS 2.0 feed. You can skip to the end and leave a response. Pinging is currently not allowed.
22 Responses to "Kings Day in France and a Recipe for French Kings Cake"
Leave a Reply