Guy Fawkes Night
November 4th, 2015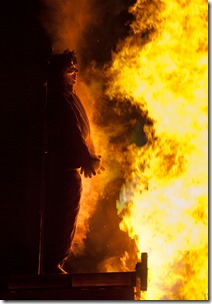 Guy Fawkes Night is celebrated in England every year on November 5th. It's also known as Bonfire Night and Fireworks Night.  It commemorates the thwarted attempt in 1605, known as the Gunpowder Plot, to assassinate King James I and destroy the Houses of Parliament.  Guy Fawkes was the first person arrested in the conspiracy and that's why it's named after him. 
Celebrating the failure of the plot, people lit bonfires around London. November 5th became a public day and people were asked to build bonfires every year on that night… instead of the traditional ones that had been lit for Halloween.
Nowadays, people make effigies of Guy Fawkes (using old clothes and straw) and throw them on the bonfires. They also light fireworks.
Traditional Guy Fawkes Night foods are Parkin Cake (recipe here), bonfire toffee (recipe here), and black peas. Sausages, potatoes (wrapped in foil) and marshmallows are also roasted over the bonfire. 
You can learn some Guy Fawkes Night Rhymes here and read more about the history of Guy Fawkes Night here.
Enjoy!
Mama Lisa
Image: Wikipedia (cc)
PS Please feel free to share your favorite Guy Fawkes songs, rhymes or recipes in the comments below.
This article was posted on Wednesday, November 4th, 2015 at 7:45 pm and is filed under Bonfire Night, Bonfires, British Children's Songs, Children's Songs, Countries & Cultures, Customs and Traditions, England, English, English Children's Songs, Guy Fawkes Day Songs, Guy Fawkes Night, Holiday Recipes, Holidays Around the World, Languages, Recipes of the World, United Kingdom. You can follow any responses to this entry through the RSS 2.0 feed. You can skip to the end and leave a response. Pinging is currently not allowed.
4 Responses to "Guy Fawkes Night"
Leave a Reply