The Twelfth Night in England
January 6th, 2019
I came across a recipe for a Twelfth Night Cake on the BBC's site this week. It made me think of Kings Cake that's eaten in France at this time of year (see pic below).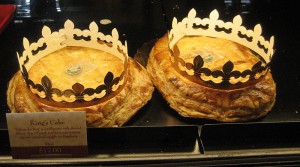 Both cakes are made for the Epiphany, a Christian holiday that marks the visit of the 3 Kings to the little baby Jesus.  Different traditions mark the date of Twelfth Night on January 5th or 6th.
According to Wikipedia, "In English and French custom, the Twelfth-cake was baked to contain a bean and a pea, so that those who received the slices containing them should be respectively designated king and queen of the night's festivities…. [in England] it is customary for Christians in many localities to remove their Christmas decorations on Epiphany Eve (Twelfth Night)…"
I asked some friends in England if they're familiar with these customs…
Anne wrote, "I don't actually know. Perhaps in very traditional parts of the country… I do know the Theatre Royal in London hands out 12th Night cake though."
David wrote, "Apart from the fact that it is Epiphany and that it's the date when people take down their Christmas decorations, I'm not aware of anything in particular. That's not to say there isn't anything else, just that I'm not aware of anything."
Frances wrote, "My family doesn't remember it up north. Saying that, I came across someone in a care home who actually remembers Christmas cakes made with figs, pulling bits out of his teeth (Figgy Pudding from 'We Wish you a Merry Christmas')!"
So it seems that while Kings Cake is still popular in France, Twelfth Night Cake has probably gone by the wayside in much of England.
Please let us know if you follow any Twelfth Night traditions in the comments below.
Thanks to Anne, David and Frances for sharing their knowledge of the tradition!
Happy Epiphany!
Mama Lisa
PS  David Solomons is a musician and composer. He wrote "Of course you will already have heard my performance of the 12 days of Christmas a Conductor's nightmare ;-) " It's a play on the song "The Twelve Days of Christmas."
Image: Galette des rois from Wikipedia, cc.
Leave a Reply