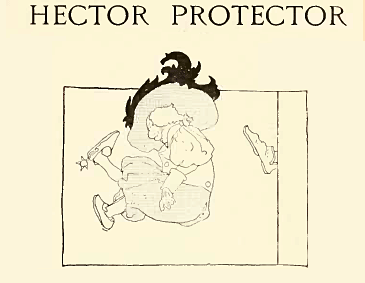 Hector Protector Was Dressed All in Green
Hector Protector was dressed all in green;
Hector Protector was sent to the Queen.
The Queen did not like him,
No more did the King;
So Hector Protector was sent back again.

Thanks and Acknowledgements
This rhyme can be found in The Nursery Rhyme Book, edited by Andrew Lang and illustrated by L. Leslie Brooke (1897) and The Real Mother Goose (1916), illustrated by Blanche Fisher Wright. The illustration can be found in The Big Book of Nursery Rhymes (circa 1920) edited by Walter Jerrold (1865 - 1929) and illustrated by Charles Robinson (with some graphical editing by Lisa Yannucci). This rhyme can also be found in "The Nursery Rhymes of England" 5th edition (1886), collected by James Orchard Halliwell and illustrated by W. B. Scott.