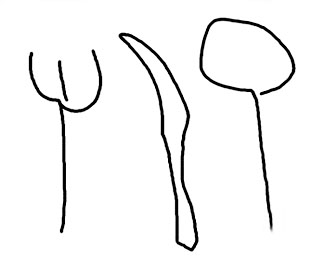 La familia Cucharón
The Ladle Family
Canción infantil
Children's Song
Mi papá Tenedor, mi mamá Cuchara
Y yo soy Cuchillito de comida rara.
Mi abuelo Cucharón,
Mi abuela Espumadera
Y mi prima querida Cuchara de Madera
Estaba el negrito aquel
Estaba comiendo arroz
El arroz estaba caliente y el
Negrito se quemó.
La culpa la tiene usted
Por lo que sucedió
Por no haberle dado cuchara
Cuchillo ni tenedor.
My daddy Fork, my mommy Spoon
And I am the little Knife of strange food.
My grandpa Ladle,
My grandma Skimmer
And my darling cousin Wooden Spoon.
There was that little black boy
He was eating some rice
The rice was hot
And the little black boy got burnt.
You are guilty
For what happened
Because you didn't give him a spoon,
Knife, nor fork.

Thanks and Acknowledgements
Many thanks to Anna Carina Morales Peña for contributing this song. Translated by Monique Palomares. Thanks to Jason Pomerantz for the drawing!
¡Muchas gracias!