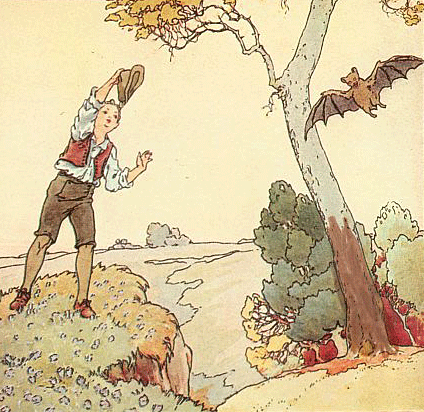 Bat, Bat, Come Under My Hat
Bat, bat,
Come under my hat,
And I'll give you a slice of bacon;
And when I bake
I'll give you a cake,
If I am not mistaken.
Notes
"There is doubtless a bit of folklore in the nursery rhyme of 'Bat, bat, come under my hat, And I'll give you a leg of bacon,' connected perhaps with the old idea that bats gnawed the bacon or ham hung in the big old-fashioned chimneys to cure in the smoke." -Bulletin of the Boston Society of Natural History, Volumes 25-48 (1921)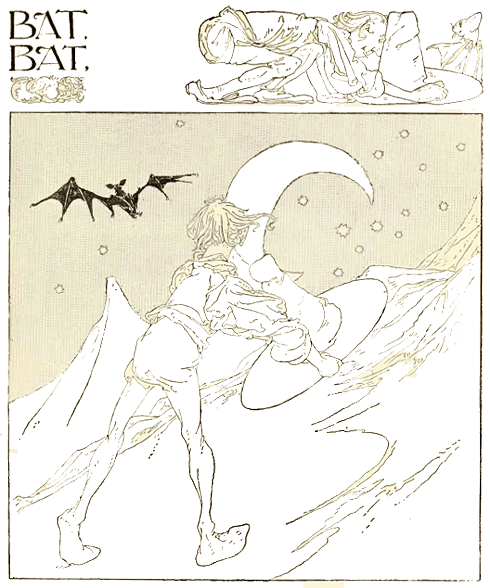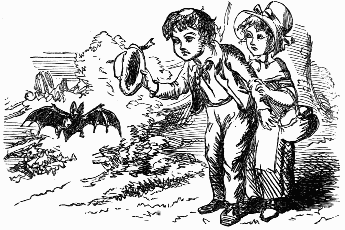 Comments
A dialectical word for mouse was airymouse or arymouse (mouse of the air!). "The village boys at Polperro, Cornwall, address the bat, as it flies above them, thus-

Arymouse, arymouse, fly over my head,
And you shall ha' a crust o' bread;
And when I brew and when I bake,
You shall ha' a piece of my wedding-cake." -English Dialect Society (1879)

"In Suffolk boys used to throw their caps into the air and say-

Bat, bat, fly into my hat,
And I'll give you a slice of bacon;
If one won't do, I'll give you two,
And send you off a-quaking." -English Folk-Rhymes: A Collection of Traditional Verses Relating to Places (1892) by G. F. Northall.

Thanks and Acknowledgements
The illustration is from Mother Goose, The Original Volland Edition (1915), edited and arranged by Eulalie Osgood Grover and illustrated by Frederick Richardson (with some graphical editing by Mama Lisa). The 2nd illustration can be found in The Big Book of Nursery Rhymes (circa 1920) edited by Walter Jerrold (1865 - 1929) and illustrated by Charles Robinson (with some graphical rendering by Mama Lisa).