This rhyme can be found in A History of Nursery Rhymes (1899) by Percy B. Green. Green wrote that it's… "a verse repeated when playing at skimming shells or stones on the water of a pond or lake."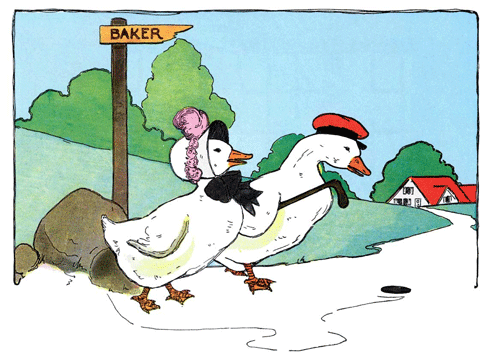 A Duck, A Drake, A Barley Cake
A duck, a drake*, a barley cake,
A penny to pay the baker;
A hop, a scotch, another notch -
Slitherum, slitherum, take her.
Notes
*A drake is a male duck.

Here's the version from The Real Mother Goose (1916):

A duck and a drake,
And a halfpenny cake,
With a penny to pay the old baker.
A hop and a scotch
Is another notch,
Slitherum, slatherum, take her.

Thanks and Acknowledgements
The illustration is from The Real Mother Goose (1916), illustrated by Blanche Fisher Wright.