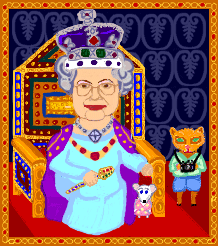 Pussycat, pussycat,
Where have you been?

I've been to London
To visit the Queen.

Pussycat, pussycat,
What did you there?

I frightened a little mouse
Under her chair.
Notes
Percy B. Green, author of A History of Nursery Rhymes (1899), wrote the following about the Pussycat, Pussycat nursery rhyme:

"No doubt the incident giving rise to this verse had to do with the terrible fright Queen Bess (Elizabeth) is supposed to have had on discovering a mouse in the folds of her dress - for it was she of virgin fame to whom pussy-cat paid the visit. It has been asked again and again, 'Why are old maids so fond of cats?' and 'Why are their lives so linked together?' Maybe it is to scare, as did the cat in the rhyme, 'a little mouse from under her chair.'"

James Orchard Halliwell wrote the following about Pussycat, Pussycat in his book The Nursery Rhymes of England (1843): "There is an old proverb which says that 'a cat may look at a king.' Whether the same adage applies equally to a female sovereign, and is referred to in the following nursery song, or whether it alludes to the glorious Queen Bess, is now a matter of uncertainty."

Another version of this rhyme is Little Girl, Little Girl, Where Have You Been?. (Click the link to see the rhyme.)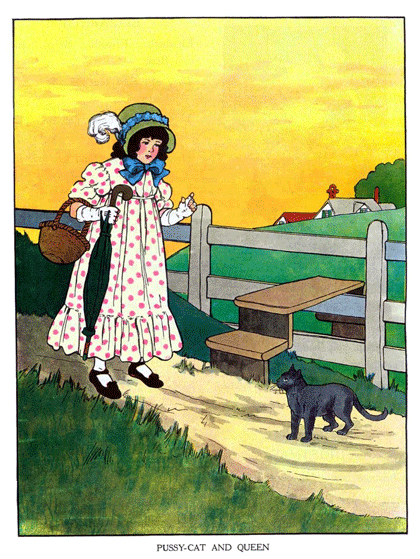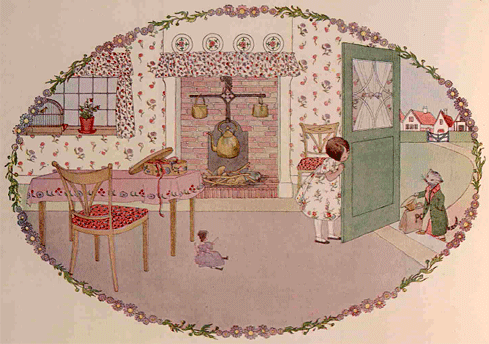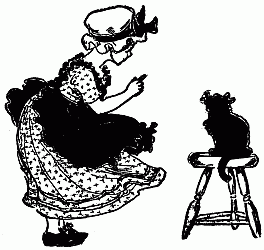 1st MP3: Jason Pomerantz and Lisa Yannucci.
Here's a singing version of "Pussycat, Pussycat"...
2nd MP3: Ruth Golding.
3rd mp3 performed by 17 talented university student musicians at California State University-Stanislaus in 2007. The musical score the recording is based on comes from Our Old Nursery Rhymes (1911) arranged by Alfred Moffat.

Here's a fun animation we did for this rhyme.
Sheet Music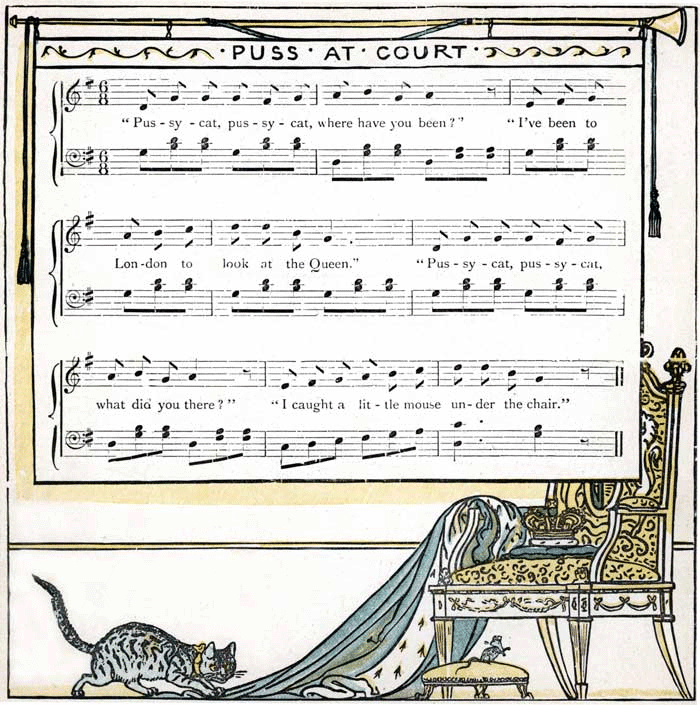 Thanks and Acknowledgements
Illustrations from Lisa Yannucci, The Real Mother Goose (1916), illustrated by Blanche Fisher Wright, The Little Mother Goose (1912), illustrated by Jessie Willcox Smith and H. Willebeck Le Mair from Our Old Nursery Rhymes (1911), arranged by Alfred Moffat.